KARACHI -- Pakistani politicians, rights groups, and residents took to the streets this week to condemn the mass shooting of civilians by Iran's Islamic Revolutionary Guard Corps (IRGC) last week near the Pakistan-Iran border.
Iranian security forces and members of the IRGC on Feb 22 fired at a number of fuel carriers near the town of Saravan on the Iran-Pakistan border.
The IRGC blocked a road used to transport fuel before opening fire at Iranians attempting to reopen the route, said Human Rights Watch (HRW).
Ongoing unrest started after the shooting in Iran's southeastern province of Sistan and Baluchestan and later spread to Pakistan, where their co-ethnics in Balochistan province in various towns protested the killings.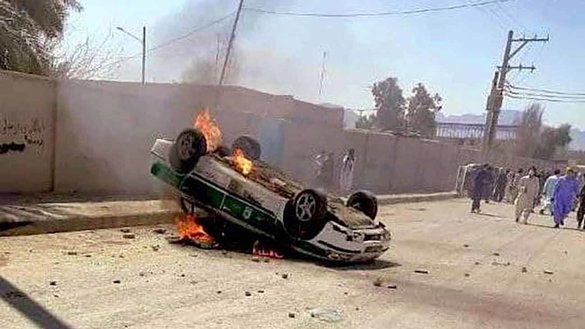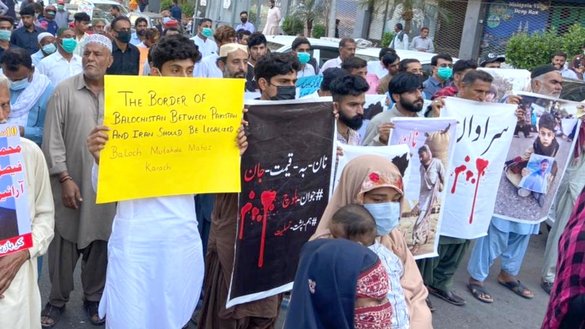 The UN on Friday (March 5) said as many of 23 people were killed in the incident and subsequent unrest.
Several Baloch tribes and thousands of families are divided by the Iran-Pakistan border that separates Iranian province of Sistan and Baluchestan from the Pakistani province of Balochistan.
There is normally a daily exchange of goods between residents on both sides of the border.
Iranian officials attempted to muddy the waters after the incident by blaming Pakistan without providing evidence.
Hossein Zolfaghari, Iran's deputy interior minister, said it was unclear whether the shooting at fuel carriers started from inside Pakistan or Iran, while Sistan and Baluchestan officials accused Pakistani forces of shooting at the fuel carriers first.
Anger in Pakistan, concern by the UN
A large number of rights activists and Karachi residents Wednesday participated in a protest rally outside the Karachi Press Club to express their anger over the IRGC's indiscriminate killing of civilians.
The Baloch Muttahida Mahaz (BMM), a civil society alliance of the Baloch ethnic community, organised the protest in which protesters carried banners and placards with slogans critical of the Iranian regime.
"In the pretext of operation against smuggling, the Iranian regime, particularly IRGC, has been killing innocent labourers on the Pak-Iran border," Akbar Wali, BMM's secretary, told Pakistan Forward.
The Shia regime in Tehran systematically oppresses the Baloch ethnic community of Sistan and Baluchestan on the basis of sect and ethnicity, he said. The Baloch are predominantly Sunni.
Like Iran's other religious minorities -- even those whose faiths and sects have been recognised as the country's official religions since the 1979 Islamic revolution -- Sunnis routinely endure discrimination in many aspects of life.
The number of the deceased and injured was much higher than reported, said Sanaullah Baloch, a member of Balochistan's parliament.
"We have reported that several dead and injured have been brought to Panjgur and other districts of Balochistan in Pakistan," Baloch said in the Balochistan Assembly on February 27.
He demanded the formation of a trilateral commission comprising members of the Iranian and Pakistani foreign ministries and Baloch representatives and elders to investigate.
Anjuman-e-Tajiran Balochistan (ATB), a province-wide traders' body, also condemned the mass shooting by the Iranian security forces at two border crossings.
Meanwhile, the UN called for Iranian authorities to stop suppressing public reaction to the shootings.
"We call on the authorities to immediately restore internet access in areas that remain disconnected," said UN human rights spokesman Rupert Colville Friday, according to Reuters.
For more than a decade, the Iranian regime has regularly restricted its citizens' access to the internet, slowed down web traffic, jailed online activists and used web-based location tracking tools to crack down on protests.
Selling fuel out of desperation
The lack of jobs in the province has left its population few alternatives to black-market trading with its fellow Baloch across the border, said HRW.
Fuel is exceptionally cheap in Iran thanks to heavy government subsidies.
Many locals attempt to sell Iranian fuel in Pakistan for a profit because of Sistan and Baluchestan's dismal economic state, high unemployment rate, and palpable poverty, a fact that state officials do not deny.
"This is the Baloch people's source of livelihood on both sides of the border," Manzoor Mir, an ATB leader, told Pakistan Forward.
"But Iran not only has been depriving them of earning their livelihood but also killing them by firing indiscriminately on civilians," he said.
Restricting cross-border family visits
According to a 1956 agreement between Iran and Pakistan, Pakistanis who obtain a Rahdari, or "red permit", are allowed to travel to Iran to visit their relatives on the other side of the border, said Jamshed Hout, a college professor in Panjgur, a town bordering Iran.
With the permit, Pakistanis may travel up to 60km inside Iran, while Iranians may cross into the Pakistani border town of Taftan.
"But in late March 2014, Iranian border guards deported dozens of Pakistani families from Sistan and Baluchestan Province even though they possessed valid travel documents," Hout said.
The Iranian security forces have been firing large numbers of rockets from the Iranian side of the border at the border towns of Panjgur and Mashkil in Balochistan province, Pakistan, residents said.