PESHAWAR -- Produce growers and sellers in Pakistan are raising concerns over the smuggling of produce from Iran.
All sorts of fruits and vegetables are being smuggled from Iran via Afghanistan and the Taftan border crossing to Pakistani markets, according to local farmers and produce vendors.
"Apples smuggled from Iran are available ... at cheaper rates than Pakistani products, which costs us huge losses," said Shad Ali, the owner of a dozen apple orchards in Swat District of Khyber Pakhtunkhwa (KP). "The vegetables and fruits from Iran are transported through Afghanistan to avoid taxes."
The items are exported as Afghan products, which have nominal taxes, he explained.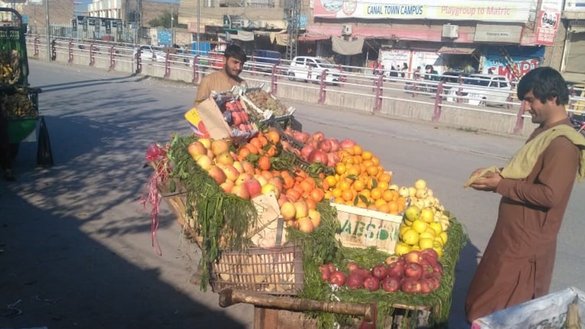 All countries besides Afghanistan have to pay a 17% duty per kg on apples to Pakistan, but the Iranian government has given a free hand to its exporters to make money illegally, Ali said.
"This has been causing losses to the farmers as well as the government," said Shakoor Shah, a customs official in Peshawar.
According to the law, importers have to pay Rs. 56 ($0.36) per kg of apples coming from Iran and Rs. 8 ($0.05) per kg on those coming from Afghanistan, Shah said.
Traders are avoiding the apple tax by disguising Iranian imports as Afghan imports by sending them through Afghanistan first, he said.
"The Iranian authorities aren't interested in stopping the smuggling," Shah said.
"Locally grown apples are expensive, while the smuggled ones are cheaper," said Jabbar Gul, a fruit vendor in Peshawar.
A person can buy 2kg of apples for Rs. 120 ($0.75) while the price of the same quantity of Pakistani apples is Rs. 451 ($2.81), he said.
"A juice smuggled from Iran is sold for less than half a US dollar [Rs. 80] per litre as opposed to the Pakistan-grown produce, which is available at Rs. 240 ($1.50)," said Muhammad Sultan, a general store owner in Peshawar.
Even multi-national juice manufacturers in Pakistan are worried about Iranian smuggling, he said.
Bad quality
While Iranian fruit fetches more money than local produce does, its quality is lacking, according to Hayatullah, a fruit seller in Peshawar.
"It isn't as delicious as local products, but customers buy it because it's cheaper," he said.
The Sarhad Chamber of Commerce and Industry in Peshawar has been urging the government to stop the import of Iranian produce through the Afghan border, said Javid Khan, an office-bearer at the chamber.
It costs Rs. 900 ($5.61) to produce a crate of apples in Pakistan, which would usually sell for Rs. 1,600 ($9.98), according to Khan. The smuggling of apples from Iran drops that price to Rs. 1,000 ($6.24).
The government is taking measures to eradicate smuggling, Abdul Razak Dawood, an adviser on commerce and investment to Prime Minister Imran Khan, told a Senate panel in November, Dawn reported.
The issue of cross-border smuggling of fruits, including apples, and of other goods from Iran was raised during a meeting of the Senate Standing Committee on Commerce and Textile Industry.
"The government should demand that trade be brought under legal channels and that the Iranians pay taxes to protect local businesses from incurring huge losses," said Muhammad Nabi, a vendor at the Mardan Fruit Market.
In addition to fruit and juice, Iran is sending onions and tomatoes to Pakistan via illegal routes to escape taxes, he said.
Iran is supporting smuggling, which is badly affecting local traders and growers in Pakistan, he added.
The bulk of the fruits smuggled from Iran are sold in push carts because shopkeepers say that they cannot sell inferior fruits to the customers, Nabi said.
"Our customers want quality items and pay the price... most of them are unwilling to purchase Iranian fruits despite lower prices."