PESHAWAR -- An initiative by the Khyber Pakhtunkhwa (KP) government to boost entrepreneurship for women in the province's newly merged districts is drawing praise from rights activists.
The KP government is launching a special programme aimed at creating jobs and spurring income-generating activities for women affected by war and militancy in the region.
The initiative, titled "Women Entrepreneurs Shining through Constraints", has been piloted in two tribal districts, Kurram and Khyber, according to the KP Planning and Development Department.
"The programme will identify and train community-based female leaders, or 'Masharanai', who will manage 20- to 30-member women's enterprise groups around targeted sectors," said Sameena Afridi, senior sector specialist on gender with the Merged Areas Governance Project of the United Nations Development Programme, a sponsor of the initiative.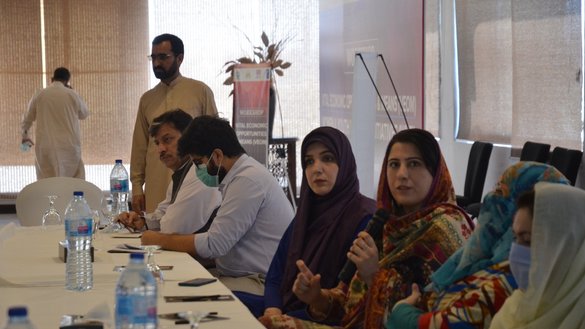 This will help "empower women economically and enhance their earning capacity and elevating their role in the tribal society", she said.
"These 'Masharanai' will be selected on the basis of their skills, education, societal status and influence in society," she said December 6.
Some 3,000 women in Kurram and Khyber tribal districts will enjoy increased access to economic resources under the programme, said Afridi, who is leading the project.
"There will be 150 women's enterprise groups formed around a common economic interest in addition to increasing the number of skilled women, building women's organisational and managerial skills, and linking women's groups with local governments, the business community and development organisations," she said.
Economic empowerment
The programme is focused on marginalised groups and members of minority groups living in the merged districts who could benefit the most from the project, said Afridi.
The initiative is necessary as female labour force participation is only 5.9% in the merged areas, compared with male labour force participation of 38.6%, she said.
"We are focused on enhancing the limited access that women have to information, skills and finances," she said.
Authorities will extend the programme to all tribal districts after they assess the initial stage, said Afridi. They will consider it a success when economically and financially independent women make their own decisions.
The project will help spur women in the region create their own businesses, said KP Secretary of Social Welfare Manzoor Ahmed.
"The formation of women's entrepreneur groups will be the first step toward supporting and graduating women to micro- and small-enterprise development in the merged areas," he said.
With the assistance of the KP Social Welfare Department, these groups will link government departments, financial institutions and development organisations to facilitate areas such as skills training and access to no- or low-interest loans.
Agriculture, handicrafts, food processing and packaging, nurseries, and kitchen gardening are some of the areas that organisers of the programme have highlighted as target sectors.
The economic empowerment of tribal women will help curb militancy and extremism in the erstwhile Federally Administered Tribal Areas (FATA), said Shaheen Quresh, president of Blue Veins, a KP-based human rights organisation.
"One of the main reasons for terrorism is poverty, so economically empowered women will not only have a say in the decision-making of the family, they will cut the supply line of the extremist elements, who ... lured youth to take up arms for money and fight as mercenaries," said Quresh, who chairs the KP Commission on the Status of Women.
Sparking socio-economic entrepreneurship that gives women a leading role "would definitely boost the economy of the war- and militancy-hit merged districts, permanently blocking the recruitment of militants, who were lured into war through perks and privileges", she said.
Raising families out of poverty
Nosheen Jamal Orakzai, a social activist from the merged district of Orakzai, also praised the initiative.
"The programme will give confidence to tribal women, and they will be in a better position to get involved in the decision-making process," she said.
"Plans always are very good on paper, but the government has to ensure its implementation to bring about real change as tribal areas always have reeled from severe poverty," she said. "There should be proper monitoring to ensure transparency."
"Skilled women in the merged areas could change the destiny of the families who have suffered greatly from war and terrorism," she said. "Women have been the worst affected by terrorism as the terrorists always wanted to deprive them ... by targeting girls' schools and excluding them from all outdoor activities."
"This programme will be of great support to heal their wounds and get them back to life," Orakzai said.