PESHAWAR -- Arab Shah is doing his part to drive home a message to girls that education is key to Pakistan's future as well as their own.
The 29-year-old provides free round-trip transportation to school in his auto rickshaw in Peshawar city to 100 female students daily to promote the importance of education.
"My five elder sisters could not get an education for various reasons, and now I want to support the sisters and daughters of others to gain an education and contribute to the progress and prosperity of the country," Shah said while picking up students from a government-run school near the Pir Bala area.
Shah feels so compelled to help girls obtain an education that he is offering transportation for free to poor families, even though his own resources are limited.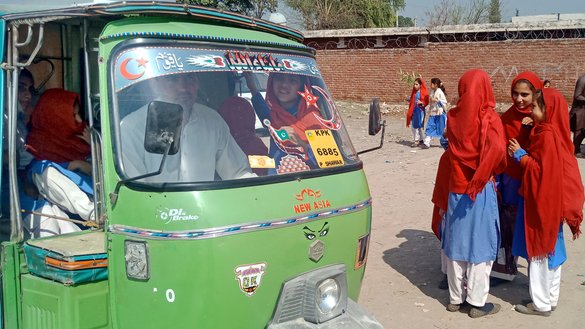 To bring the girls to school, he said, he has to make several trips in the morning and in the afternoon, which consumes considerable time and fuel as well as lost revenue.
"My duty starts from 7am until 8.30am, and then I start again from 1.15pm to 3pm", he said.
To make up for lost passenger revenue during those times, Shah said he has to work late into the evening.
He typically earns about Rs. 30,000 ($200) a month and loses about half of that revenue by providing the free lifts.
"The cost of the free trips for education doesn't matter to me," Shah said, adding that he plans to offer the service for as long as he can because he does not want girls to miss out on an education because their parents cannot afford the expenses.
Education under attack
With militants regularly targeting girls' schools between 2007 and 2015, girls in northern Pakistan have faced numerous challenges to receiving an education.
There were 867 attacks on educational institutions in Pakistan from 2007 to 2015, resulting in 392 deaths and 724 injuries, according to the Global Terrorism Database maintained by researchers at the University of Maryland in the United States. Taliban militants committed most of those crimes.
Most notably, Malala Yousafzai was shot by the Taliban in Swat in 2012 for her advocacy to promote girls' education. She recovered, won the Nobel Peace Prize for her education advocacy in Pakistan and now lives in England.
"I would not have seen school if Arab Bhaijan didn't provide this free pick-up and drop-off service to me," said Tasleem Minhaj, a fifth-grade student in Peshawar whose father is a bus driver and cannot afford the costs of transporting her to school.
"The local population fully acknowledges and appreciates the services of Arab Shah, who is helping about 100 poor girls in the area get an education," said Inam Ullah, a welder at a workshop on Warsak Road in Peshawar city.
While Inam was not able to get an education because of financial constraints, he is happy to see his five daughters going to school.
Samar Minallah, an anthropologist and filmmaker, lauded Shah's selfless efforts and his devotion to helping girls obtain an education.
"This is a very remarkable service rendered by a young man for the cause of promoting girls' education in our region," she said.
"Such people should get recognition for this, and on the occasion of International Women's Day, they should be honoured with awards."
Samar said she hopes others learn from Shah's example and replicate his spirit of sacrifice in order to help girls become educated and empowered contributors to Pakistan's development and prosperity.