ISLAMABAD -- The death last week of Khadim Hussain Rizvi, founder of the hardline religious political party Tehreek-e-Labaik Pakistan (TLP), is likely to weaken the movement campaigning against blasphemy and to reduce violence related to the contentious issue, political and security analysts say.
No cause of death has been announced for the 54-year-old Rizvi, who died November 19 after suffering a high fever and difficulties breathing, and neither a COVID-19 test nor an autopsy was conducted on the long-time wheelchair user.
In life, Rizvi acted as a lightning rod for Pakistan's religious right and was adept at stirring sectarian resentments and mobilising thousands of fanatical anti-blasphemy supporters at a moment's notice.
Vast throngs of men packed the centre of Lahore ahead of Rizvi's funeral on Saturday (November 21), chanting in unison and for the most part flouting mask-wearing rules even with the country on the cusp of a second wave of the coronavirus outbreak.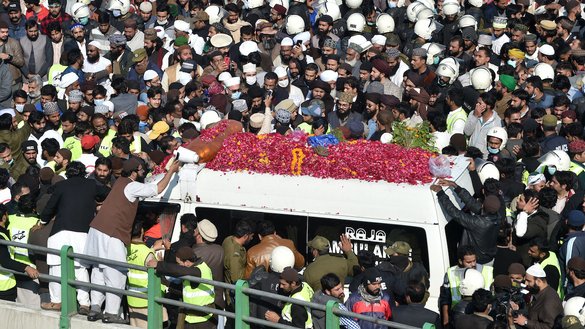 About 300,000 mourners attended the event, police told AFP, though organisers claimed the number was much higher.
TLP appointed Rizvi's son, Saad Hussain Rizvi, as the group's new leader.
History of violence
TLP rose to notoriety in 2016 following the execution of Mumtaz Qadri, a policeman who was convicted of killing then-Punjab Governor Salman Taseer in 2011 in Islamabad.
Qadri, Taseer's bodyguard, killed him over what he called the politician's vocal opposition to Pakistani blasphemy laws. TLP glorified Qadri as a martyr.
In 2017, TLP forced the resignation of Zahid Hamid, the law and justice minister who controversially changed the language in Pakistan's 2017 elections bill.
In October 2018, TLP brought the country to a standstill with riots following the acquittal of Christian woman Asia Bibi, who had been falsely accused of disrespecting the Prophet Muhammad.
Rizvi and another TLP leader, Afzal Qadri, called for the death of the three Supreme Court judges who invalidated Bibi's death sentence. Bibi eventually fled to Canada.
Pakistani Prime Minister Imran Khan won praise at that time when he vowed to confront extremists who called for the assassination of the country's top judges.
"We will protect people's properties and lives; we will not allow any sabotage," Khan said in a nationally televised address.
Later that year, Pakistani authorities charged TLP members with sedition and terrorism.
Police arrested more than 3,000 TLP members and leaders as part of a nationwide crackdown during the last week of November 2018.
Authorities accused Rizvi of treason and terrorism and Qadri of incitement of violence in Gujrat. Both cases petered out in 2019.
Weaponisation of blasphemy
Blasphemy remains a highly sensitive topic in Pakistan, where strong religious sentiments have led to mob violence and killings in the past.
Human rights activists also point to the history of settling personal vendettas and disputes through the controversial blasphemy law.
"Rizvi successfully weaponised the country's blasphemy laws and mobilised a religiously motivated cadre and vote on the basis of its anti-blasphemy agenda," said Ashfaq Hussain, a Lahore-based researcher covering religious movements.
"He called for blasphemers to be put to death and celebrated those who murdered the alleged perpetrators," he said.
However, Rizvi's death will weaken TLP and will reduce incidents of violence against religious minorities in the pretext of blasphemy, Hussain said.
The appointment of Rizvi's son as his successor will temporarily complete the party's organisational structure, but it will be a huge challenge to keep TLP as a single party, analysts say.
"I believe that TLP will split in the fear future, and the reason is that the basic glue for the party was Rizvi's own personality," said Shabbir Farooqi, an editor at Deen o Duniya, a religious magazine in Karachi.
"In Pakistan's religious-political landscape, we have examples of Jamiat-e-Ulema Pakistan, founded by Allama Shah Ahmad Noorani; Sunni Tehreek, founded by Saleem Qadri; and Jamiat Ulema-e-Islam (S), founded by Maulana Sami ul Haq," he said. "All these groups declined greatly after the deaths of their founders."
TLP morphing into a militant outfit
Traditionally, Barelvi groups enjoyed a reputation of moderation and non-violence as followers of Sufism and kept themselves at distance from sectarian strife and other types of militancy, said the principal of a Barelvi seminary in Karachi, who requested anonymity for security reasons.
"But in recent years, after Taseer's murder, TLP has become a violent group exploiting blasphemy-related issues and has skillfully gained political and street power within the Barelvi community," he said.
In the 2008 general elections, TLP fielded more than 700 candidates across the country and managed to secure a significant number of votes and win two provincial assembly seats in Karachi, gaining recognition as a new religious and political force in a very short period.
Unlike other militant outfits such as the Tehreek-e-Taliban Pakistan (TTP) and Lashkar-e-Jhangvi (LeJ), TLP is less violent but in some ways more dangerous, security analysts say.
While TLP has never been involved in extreme acts of violence such as suicide attacks and bombings, its brand of violence -- particularly mob violence -- has the potential of becoming far more dangerous and far-reaching, an intelligence official said on the condition of anonymity.
"In 2018, a TLP supporter shot and wounded then-Interior Minister Ahsan Iqbal, and in 2017, another TLP supporter killed two [members of] Tablighi Jamaat, a missionary movement of the rival Deobandi school of thought," the official said.
"In some ways, [Rizvi] was even more dangerous than the Taliban, with his supporters not limited to remote tribal areas but present in large numbers in the country's heartlands," said Omar Waraich from Amnesty International.
"[Rizvi] figured out that in Pakistan, true power can be commanded in the streets, where you don't need the highest number of votes -- just the highest number of armed supporters," he told AFP.