KHAR, Bajaur District -- Fatima Iqbal, 24, who once faced her own obstacles in completing her education, is now working to end illiteracy in her home district of Bajaur.
Last January, Igbal became the first woman from Bajaur to win a gold medal for outstanding performance in physics from Islamia College University Peshawar.
Getting an education was not easy as militants destroyed many schools and threatened residents to prevent them from sending their daughters to school, but that did not stop her, she said in November.
"My father is a doctor, and he invested in my education," she said.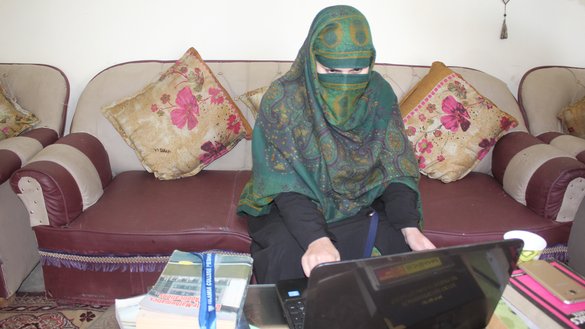 Many naysayers discouraged her from choosing physics, a subject area dominated by men, she said.
However, she has proven that "females can achieve anything if they work hard."
"The education of daughters is very important as compared with sons because educated women can educate the whole family," said Dr. Muhammad Iqbal, Fatima's father.
"I personally give more attention to the education of my daughters to make them able to do something for our backward society, and to give them a good future," he said.
"My second daughter is currently [working toward a] BS in software engineering, and I hope that she will also make me proud," Iqbal said.
"I urge all parents to send their daughters to school, to give them a better education and to empower them through education, because only strong women can make a difference in our nation," he added.
To that end, Fatima Iqbal, along with her husband, Sana Ullah -- also a gold medalist in economics -- established the first-ever private girls' school in the Inayat Killi area of Bajaur in August last year.
"The main purpose of establishing a girls' private school was to provide standard learning opportunities to girls of Bajaur because the tribe members don't send their daughters to male private schools. Also, there was a shortage of girls' schools in the area," she said.
"My aim is to fight illiteracy in Bajaur and to establish more schools as the literacy rate is very low in the district," Iqbal said. "I challenged myself to become an inspiration for tribal women."
"A woman can do everything a man can do," she said.
"A country like Pakistan cannot move forward if education for women is not made mandatory -- women make up 50% of Pakistan's population, and the only way toward development is to educate women," she added.
Standing against militants
During their heyday, Tehreek-e-Taliban Pakistan (TTP) and other militant groups suppressed women's education in tribal areas.
They destroyed 111 schools in then-Bajaur Agency, including 12 girls' schools, from 2008-2015 and even killed female teachers to stop residents from sending their daughters to schools.
In August 2014, unidentified militants killed three female teachers, two children and their driver in Bajaur with a remote-controlled bomb.
Militants killed another two female teachers of a girls' school in Bajaur in November 2009.
"The government of Khyber Pakhtunkhwa has approved 100 new primary schools and feasibility work will start soon," said Abdur Rahman, the assistant district education officer in Bajaur.
"We know that women's literacy rate is very low in the newly merged districts. The government is working to increase the literacy rate by establishing new schools and recruiting teachers," he said.
"We will provide monthly cash stipends to students of boys' and girls' schools in the tribal districts," Rahman said, adding, "Boys will be given Rs. 1,000 ($6) and girls will be given Rs. 2,000 ($12) per month."
Of the planned 100 schools, the majority will be built for girls, he said. An upgrade of male and female schools is under way, he added.
In Bajaur, authorities have spent Rs. 220 million ($1.4 million) on schools through parent-teacher council funds, Rahman said without specifying the period in which they spent the money.