PESHAWAR -- Khyber Pakhtunkhwa (KP) authorities have ramped up search operations, snap checks and police exercises following the bombing of a religious school in Peshawar late last month.
Police have rounded up a number of suspects in Peshawar and other districts of the province since the last week of October, when a bombing at a religious school in Dir Colony killed nine and wounded more than 90.
Society denounced the incident for targeting young students.
"We carried out as many as 80 search-and-strike operations in Peshawar, during which we rounded up about 200 suspects," Capital City Police Officer Mohammad Ali Gandapur said.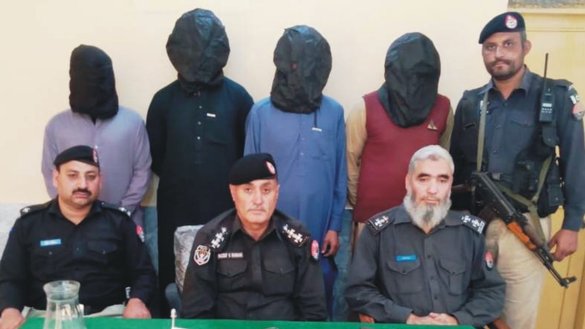 Some of those arrested are undergoing interrogation as police seek any connection with terrorists, he said.
During the operations, police searched 2,359 houses and 13 hotels, Gandapur said.
"Almost half of these operations were carried out by the police exclusively, while we conducted another half along with the army," he noted.
Authorities have strengthened entry points to and exit points from Peshawar, he said, adding that "all the superintendents of police and their deputies have orders to carry out a fresh security audit of sensitive buildings," including major mosques and seminaries.
"We are carrying out the search-and-strike operations frequently in all parts of the district to maintain law and order," said District Police Officer (DPO) Mardan Zahid Ullah Jan.
"We are meeting with officers daily to get updates of the security audit of sensitive buildings and places," Jan added.
"We are conducting exercises in different parts of the districts, especially sensitive areas, to check the alertness of the policemen," said Sahibzada Sajjad Ahmad, the DPO of Dera Ismail Khan.
Police across KP have orders to conduct a survey of the major mosques and seminaries to find details on foreign-national teachers, students and prayer leaders, said Ahmad.
Decrease in crime
The ramp up in policing comes as officials report a decrease in crime compared to last year in KP.
Incidents of extortion, targeted killing and kidnapping for ransom over the first 10 months of this year plummeted from the same period in 2019, according to a handout provided at a briefing November 9 at the Central Police Office.
Cases of extortion decreased by 26% from the same period last year, while kidnapping for ransom dropped by 100% and targeted killing 26%, said KP Inspector General of Police Sanaullah Abbasi.
At the same time, authorities seized 1,845 rifles, 5,562 shotguns, 31,132 pistols, more than 3,000 automatic weapons, 182 hand grenades, five rocket launchers, 1,957 detonators and more than 1.2 million rounds of ammunition.
Under the National Action Plan, a counter-terrorism policy that took effect in January 2015, KP Police conducted 10,884 search-and-strike operations against criminals this year, leading to the arrests of 48,255 outlaws including suspected terrorists and those wanted for other crimes, according to Abbasi.
"All the regional police officers have orders to ... protect the life and property of every citizen," said Abbasi, adding that he has ordered regional police chiefs to send reports regarding search operations, snap checks and other measures to the Central Police Office on a daily basis.