PESHAWAR -- The Khyber Pakhtunkhwa (KP) government says it has started cracking down on doctors who have obtained dubious medical degrees from universities and colleges based in Russia and China.
"We have launched a probe of doctors and have issued notices to 28 who claimed to have received degrees from China and Russia. They have been working in the health sector for the past five to 10 years," Dr. Hashim Khan, a senior health official at the KP Directorate of Health, said Tuesday (November 10).
Medical schools in China and Russia are notorious for awarding degrees to students from countries such as Pakistan in order to pocket hard currency and earn a profit, he said.
Sometimes, physical presence at one's supposed school is not even required.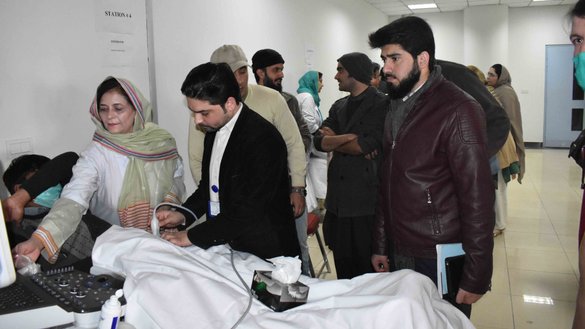 "Some of the institutions have been recognised by the Pakistan Medical Commission (PMC), but the majority have issued degrees to students who never even visited but received degrees through the agents of those colleges," Khan added.
"Many of the Pakistani students who were awarded degrees failed to prove they were genuinely qualified, even though we gave them more than one year to prove they were," he said.
"We contacted the universities in Russia where 12 of these doctors claimed to have received their degrees, but half of them existed only on paper and the rest weren't recognised by the PMC."
Another 16 graduates of Chinese medical schools hold dubious degrees, Khan said.
Officials at the Pakistan Medical Association (PMA) expressed concern about the matter and urged the Pakistani government to take countrywide action against students working toward spurious degrees as well as those who are already operating as doctors.
"The federal government should contact both countries to stop this practice and protect public health," Dr. Qaisar Sajjad of Karachi, secretary of the PMA's central branch, said. "They earn huge amounts of foreign currency in the name of so-called medical education."
The two countries are able to lure Pakistani students because many are unqualified to attend Pakistani medical schools but are willing to buy a foreign diploma.
In Pakistan every year, about 200,000 students on average take the entrance exams for dental or medical school. About 10,000 are admitted to the country's 167 medical and dental schools.
"But there are no such criteria in Russia or China, and those who can pay the high fees gain admission. As a result, some of them get government jobs, while the majority start a private practice," Khan said.
"We have observed that there are many doctors who have obtained degrees from China and Russia but don't have any medical knowledge. We have been expressing this concern from time to time, and we demand that the federal government ban Pakistani students from getting a medical degree from both countries," he said.
"They are harming patients rather helping them," he said.
Students under scrutiny
The PMC has been trying to improve the regulation of medical education in Pakistan, said Dr. Umar Raees of Islamabad, a PMC official.
"We have already blacklisted Kyrgyzstan for awarding medical degrees to Pakistani students, and efforts are under way to scrutinise the degrees already awarded to Pakistani students by schools in China, Russia and other countries," he said.
The federal government has tasked the PMC to better regulate and monitor medical education and practices in Pakistan, he said.
"We are starting a process to check the status of the degrees of Pakistanis from foreign universities, and we will be taking action against those whose credentials are found to be dubious," he said.
"Currently, an estimated 10,000 [Pakistani] students are enrolled in medical schools in Russian and China, mostly in universities that do not have the appropriate teaching facilities," Raees said.
Pakistan recognises a few Russian and Chinese institutions because they have good facilities, he added.
Still, the majority of them are just out to make money by churning out degrees to anyone who pays, he said. In addition, according to some allegations, most of these so-called medical schools have no physical facility and instead sell their degrees to students through courier services and their agents.
The action initiated by the provincial government is a welcome step as it will result in stopping ill-qualified doctors from endangering patients, said Dr. Shafique Ahmed, dean of a public sector medical college in Bannu District.
"Other provinces should follow the example of KP as thousands of doctors have bought degrees from China in the past few decades," he said. "They are now either working in senior positions in the government sector or running their own private clinics. In both cases, the public are the ones who are at risk."
Such doctors should be fired from the government sector, while Pakistani students -- who gained admission to local medical schools after facing rigorous competition and who have put in hard work -- deserve the opportunity to treat patients, he said.
The qualifications for medical education in Pakistan could not contrast more starkly with the lax standards in Russia and China, Ahmed said.
For example, in Pakistan, a one-year residency in a 500-bed hospital is mandatory for medical graduates after five years of study, while schools in Russia and China award degrees to students without such requirements, he noted.
In January, the Pakistani government carried out inspections of medical and dental schools across the country to help them adopt the minimum standards set by the World Federation of Medical Education (WFME).
"About 40 schools were issued notices to meet their shortcomings, and they will be inspected again by the end of the year. This process is done in line with the WFME's guidelines to ensure a quality medical education and the best clinical care in the country," he said.
The federal government should verify if schools in Russia and China that award degrees to Pakistani students follow the WFME's guidelines, he added.