PESHAWAR -- Minority group members and women are joining Khyber Pakhtunkhwa (KP)'s Dispute Resolution Councils (DRCs) to help settle various issues in local communities.
The first DRC was established in 2014 in Peshawar, and now such bodies exist in every district of KP.
Each three-member DRC, made up of former judges, lawyers, government officers, professors, lawmakers, ministers and others, hears various disputes and issue verdicts.
The DRC in the Gulberg neighbourhood of Peshawar inducted two new members, Samuel, a Christian man who goes by one name, and Saima Ambreen, a woman, in the first week of October.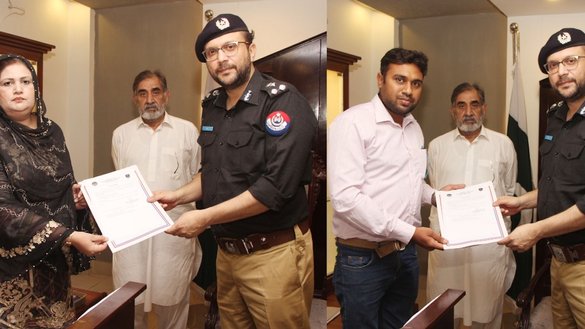 "We have for the first time inducted one Christian member to settle various disputes between their [Christian] members as well as with those of other religions," Capital City Police Officer (CCPO) Peshawar Mohammad Ali Gandapur said November 5.
More women are joining these bodies to provide a platform for females who face disputes with family or with other members of society, he added.
"The purpose of the induction of a minority member was to give them [minorities] representation so they can approach the body with any issue," said Gandapur.
The five DRCs in Peshawar have resolved 2,862 cases in the past six years, he said, adding that "as many as 1,892 cases were resolved by the DRC in Gulbahar and another 904 by the Gulberg DRC."
The induction of a minority member into the DRC will help settle various disputes involving the thousands of Christian, Sikh and Hindu families in Peshawar and other parts of KP.
Providing justice
"I will do my best as a member of the DRC to settle various issues faced by the Christian community as well as members of other religions," Samuel said.
"This is a good sign for the Christian community and other minorities in Pakistan as they will easily access their [DRC] member with any issue," said Shahzad Masih, a Christian from the Swati area of Peshawar.
In the past, disputes over land and money have cropped up, he said.
Nadeem Joseph, a local Christian, was killed in a dispute in the Swati area in August. Police arrested two suspects in connection with the case.
"Not only were both of the accused, who were Muslims, arrested, but policemen at the hospital donated blood in a bid to save the life of Nadeem," said Ilyas Khan, a spokesman for the Peshawar Police.
"There are a number of females on DRCs in Peshawar and other districts who are doing a great job in providing justice to woman complainants," said Azra Sohail, a housewife from Gulbahar, Peshawar.
Her family had a land dispute that the DRC resolved within a few weeks, she said.
"A DRC member is inducted only after authorities check his or her record through the Special Branch and other intelligence agencies, so that only people of good reputation become part of these bodies," said Superintendent of Police Peshawar Abdul Salam.
The DRCs, which have begun operating in tribal districts, have settled thousands of blood feuds and other problems, he said.