QUETTA -- Iranian intelligence agents have recruited a large number of Shia and Sunni scholars in Pakistan as part of an effort to increase Tehran's influence in the country and encourage its proxy wars across the region, say officials.
"We have concrete evidence that Iran has a large number of Shia and Sunni scholars on its payroll in different parts of Pakistan. All these scholars are on task to strengthen Iranian interests in the country," an Islamabad-based intelligence official said on November 6 on the condition of anonymity.
"Iran via its sponsored religious circles has started lobbying to gain Pakistani support as a strategic partner in its war against Saudi Arabia, the United States and other rival countries," he said.
"Iranian cultural centres and consulates are playing a key role in paving the way for Iranian goals in Pakistan," he added.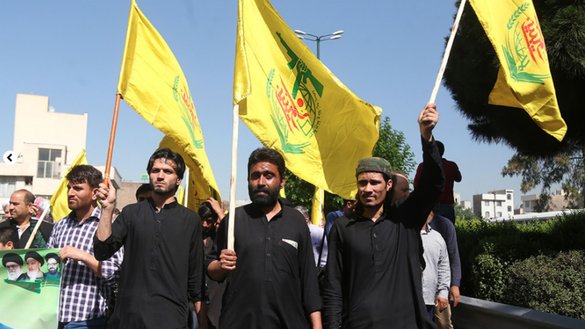 "In my judgment, our relevant sections dealing with regional strategic affairs have been monitoring this developing situation for a long time, and they have foiled several attempts at undercover Iranian interference," he said.
"The security agencies are closely monitoring the activities of all religious scholars suspected of working for Iranian interests. In the past, there have been consistent actions against Iranian diplomatic missions here," said Hamza Abid, a Quetta-based security official.
The foreign interference on Pakistani soil always remains a threat to its national goal of peace, he said. "All efforts are being made to ensure peace and harmony as Pakistan is playing a key role in the overall security of the region."
"It is true that several Iranian intelligence personnel have been arrested in the past from Quetta and other parts of the country and that they were found guilty of violating diplomatic rules," he added.
"Tehran's influence in our religious community cannot be denied."
"In the past couple of years, Iran has sponsored trips for a large number of Sunni and Shia scholars to Tehran and other parts of Iran, where they were provided special briefings for tasks so that they could be used for Tehran's future goals," Abid said.
"Iran has done much work here to strengthen its roots in the religious community," said Maulana Naqeebullah Zahid of Quetta, a Sunni religious scholar. "Many Sunni scholars who are on the payroll of Iran are extensively lobbying for Iranian interests."
"We have come to know that Iranian officials are spending a huge amount on the trips arranged for religious scholars. Dozens of our Sunni scholars, who also belong to various political and religious parties, remain part of those delegations that were sent to Tehran for recruitment," Naqeebullah said.
"It is evident from the past that Iran remains involved in several sectarian conflicts in Pakistan; therefore, in this situation, it could execute another plot to spread religious hatred in the country," he said.
Iranian mercenaries
"Pakistan is going through a very critical period at the moment, and in this situation, the country cannot afford any further crises. The need of the hour is to form a comprehensive strategy for neutralising the threat of foreign influence in the country," said Gen. (ret.) Talat Masood, a senior Islamabad-based defence analyst.
"Some countries in the region are in crisis because of their policies; we must not be part of any external war," he said.
Efforts for peace and stability can never succeed unless Pakistan foils attempted foreign interference in the country, as anti-Pakistan elements are always looking for opportunities, he said.
Hostile agencies are "trying to compromise our peace via their sponsored elements", he said.
"The role of Iranian diplomatic missions in Pakistan always remains controversial because of their links with anti-peace elements found responsible for different terrorist activities in Pakistan," said a Gwadar-based senior security official who previously served in a counter-terrorism section of a law enforcement agency.
"Last month in Karachi, on October 30, a most-wanted Shia terrorist, Yasir Abbas, who had alleged links with Iranian intelligence, was arrested," said the official on the condition of anonymity.
"Yasir Abbas was a target killer for a banned Shia militant group, Sipah-e-Muhammad Pakistan, which has been heavily involved in sectarian terrorism in Pakistan," he said.
Tehran's Islamic Revolutionary Guard Corps initially recruited Abbas, who hails from Gilgit-Baltistan, for the Zainabiyoun Brigade, a militant group accused of fueling sectarian violence in Pakistan, according to the official.
"In the past couple of years, security agencies held dozens of Shia youth from different parts of the country... in connection with their alleged involvement with different mercenary groups fighting for Iranian interests in Iraq and Syria," he added.