PESHAWAR -- Officials have established the first-ever police station in the remote Tirah Valley of Khyber District as they ramp up security in an area that was once a hotbed for terrorists.
The station house officer and other personnel have been posted to the new police station, Capital City Police Officer Peshawar Mohammad Ali Gandapur said on October 15.
"The police station will improve law and order in the remote valley, which was once troubled for being the stronghold of militants," he said.
"Tirah is an immense valley that is strategically situated, partly in Kurram and Orakzai and bordering Afghanistan," he said, adding that it occupies a remote area that in the past few years has had little government presence.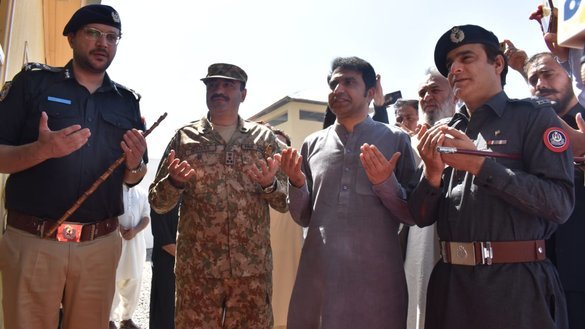 "A police station in Tirah has symbolic significance and will help enforce the law and deliver public services," said Gandapur, who also heads the Khyber District Police as the regional police officer.
Tens of thousands of residents of Tirah were forced to migrate to Peshawar, Kohat, Hangu and other areas after terrorists took control of the region. A military operation in 2015 cleared the valley of militants and restored peace.
Settling local disputes
In addition to Tirah, the police have opened two more police stations in the Shalman and Mullah Gori areas of Khyber District, said Gandapur.
"Now there are six police stations in Khyber District, where initially three police stations were set up," he said.
The KP Police aim to introduce effective policing structures and processes in the merged districts to bring them to the same level as other districts, he said.
The new police station in Tirah will not only help restore peace but will play a role in settling local disputes, said District Police Officer Khyber Mohammad Iqbal.
"The Khasadars and Levies Force personnel from Tirah and other parts of the district rendered many sacrifices for peace, and now they will help restore peace through this police station," he said.
The police have been doing a great job in Khyber and other tribal districts following the merger of the former tribal areas, he said.
"Police have been directed to facilitate those who lodge complaints and all others who come to the police for any help in a friendly manner," he said.
A message of peace
"Setting up a police station in an area that was once the stronghold of terrorists sends a huge message of peace to the world," said Javed Afridi, a resident and elder from Tirah.
The police station in Tirah will boost the morale of the population of the area after years of terrorism, he said.
"The police station in the Tirah Valley will help eliminate terrorism and restore peace in the area," said Amjad Ali Khan, the commissioner of Peshawar.
The district administration will launch more projects for the welfare of the residents of the area once peace is fully restored, he said.