ISLAMABAD -- Pakistan, as part of its efforts to meet international standards in combatting terror financing and money laundering, may turn to the United States for help, say analysts.
The Financial Action Task Force (FATF), a Paris-based inter-governmental organisation, formally placed Pakistan on its grey list in June 2018 for failing to take action against money laundering and terror financing.
The grey list is comprised of countries that the FATF is monitoring for weaknesses in their efforts to combat money laundering and terror financing.
The FATF extended the deadline for Islamabad to complete an action plan aimed at meeting its requirements to September, and it will evaluate Pakistan's progress on the FATF Action Plan in a meeting on October 21-23.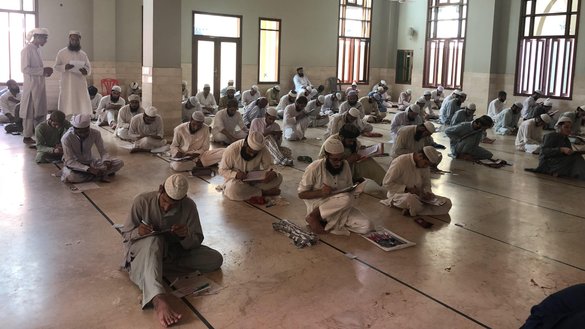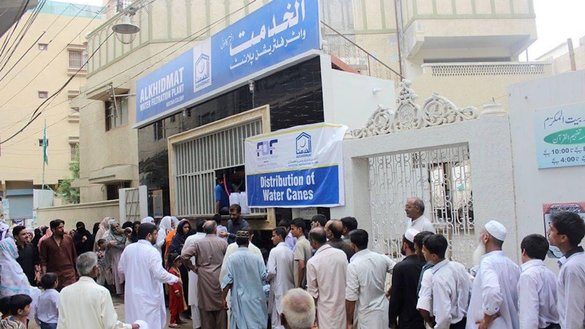 Although Pakistani officials have undertaken a number of initiatives to comply with the recommendations of the FATF, improved relations between Washington and Islamabad may play a role in preventing Pakistan's blacklisting, say observers.
Ties between Pakistan and the United States improved following a July 2019 meeting between Prime Minister Imran Khan and the US administration.
Prior to the meeting, Washington had drastically downgraded ties with Islamabad, which left Pakistan without crucial support from the United States and led to the nation being added to the FATF's grey list, said Karachi-based security analyst Raees Ahmed.
However, helping the United States advance peace talks in Afghanistan provided Islamabad an opportunity to reset its relations with Washington and led the United States to assist Pakistan's effort to escape the FATF blacklist, Ahmed said.
If blacklisted, Pakistan would join the likes of Iran and North Korea and be shunned by international financial institutions.
Pakistan was "largely compliant" on the 22 commitments it had made to improve its performance in combating money laundering and terror financing, determined the FATF's Asia Pacific Joint Group in a meeting in Beijing in January.
The United States and key allies including the United Kingdom, France, Germany, Australia, New Zealand, and Japan gave Pakistan the pass at the meeting, Ahmed said.
The United States has made public its support for Pakistan's recent efforts to comply with the recommendations of the FATF.
"Pakistan ... has taken some action against externally-focused militant groups and UN [United Nations]-designated terrorist organisations operating from its territory in accordance with its National Action Plan against terrorism and Prime Minister Imran Khan's public commitments," the US State Department's Bureau of South and Central Asian Affairs said in a statement on July 29.
In February, the bureau praised a Pakistani court's conviction of Jamaat-ud-Dawa leader Hafiz Saeed and an aide in two terror-financing cases.
The conviction was "an important step forward" toward meeting Pakistan's vow "to combat terrorist financing", it tweeted.
"Pakistan is hopeful that the United States will help Pakistan get out of the FATF's grey list," said an Islamabad-based senior Interior Ministry official on the condition of anonymity.
Pakistani authorities since March 2019 have frozen 976 properties belonging to banned organisations and seized schools, colleges, seminaries, hospitals, dispensaries, and ambulances used by the groups under the guise of charities, according to a recent Interior Ministry report.
US-China tensions
As Islamabad seeks potential assistance from Washington, recent tensions between the United States and China may offer an opportunity for Pakistan to foster ties with Washington, say observers.
Friction between Washington and Beijing has grown over a host of issues including trade, the coronavirus pandemic, the Chinese regime's human-rights abuses in Xinjiang and Hong Kong, its campaign of disinformation over its role in allowing the COVID-19 pandemic to erupt worldwide, and its increasingly belligerent use of its military.
"Islamabad should not take sides in the Sino-US tension and also should assess that the United States is Pakistan's largest export destination country, while China is Pakistan's largest import partner," said Ashok Sharma, a Karachi-based consultant who runs startup businesses.
Pakistani textile businesses and the country's technology sector are already eyeing potential markets that have emerged from the tensions.
Pakistan enjoys good relationships with both the United States and China and should avoid lining up with a particular "camp", Prime Minister Khan recently clarified.
"Pakistan does not have to be in any camp. Why can't we have a good relationship with everyone?" Khan said in a September 3 interview with Al-Jazeera.
More than 20 US companies are members of the Overseas Investors Chamber of Commerce and Industry (OICCI) in Pakistan, according to OICCI statistics, compared to just four Chinese businesses among about 200 members.
Closer ties and US support may help Pakistan secure loans from global monetary bodies, including the International Monetary Fund, boost exports and increase its military capabilities, said Sharma.
In January, the United States approved Pakistan's return to the International Military Education and Training Programme, a US security assistance programme to instill capabilities and technical expertise, more than a year after suspending Pakistan's participation.