PESHAWAR -- Residents of militancy-stricken Malakand Division and other districts in Khyber Pakhtunkhwa (KP) are lauding the expansion of a federal government programme that offers free medical care in their areas. The programme serves the long-neglected tribal belt too.
The initiative provides welcome relief for civilians who have endured years of terrorism, local residents say.
"Terrorists have tried their level best to deprive the public of healthcare facilities. They damaged 25 healthcare buildings and forced female health workers to stay home, which badly affected women who required treatment," said Dr. Muhammad Salim, a former district health officer in Swat, one of the eight districts of Malakand.
Residents of the area still recall the Taliban's atrocities in Swat from 2007 to 2010, when pregnant women died of simple medical causes because doctors and nurses were unavailable, he said.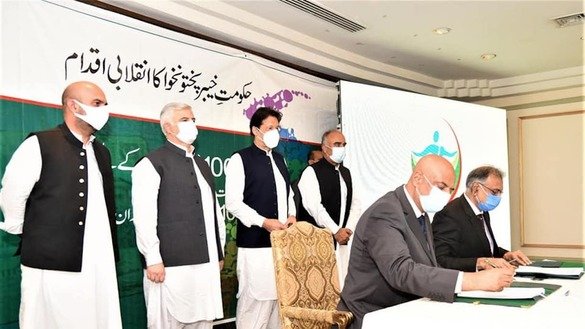 Phased expansion in KP
The government is extending the free healthcare initiative, known as the Sehat Sahulat Programme (SSP), to all of KP in phases, starting in Malakand Division in November.
"The selection of Malakand for free health services is due to the violence suffered by its population, and it is an award for the bravery that it showed against terrorism," Salim added.
Under the SSP, about 10.5 million households in the erstwhile Federally Administered Tribal Areas (FATA) will receive Sehat Insaf Cards entitling them to free medical treatment at more than 150 private or state-owned hospitals.
Patients in erstwhile FATA have a suggested annual cap of Rs. 720,000 ($5,160) worth of health care, but even if they exceed that limit, they will continue to receive free care.
Patients in the settled part of KP, including Malakand, will have a higher suggested annual cap because of the higher cost of living outside erstwhile FATA.
"All one million families of Malakand will start getting free diagnostic and treatment services at 20 designated hospitals. Each family will be entitled to receive services worth $7,050 (Rs. 1.2 million) per year," said Dr. Jabbar Khan, an official with the SSP.
After the programme takes effect in Malakand Division, it will expand to Hazara in December; Mardan and Peshawar in January; and Kohat, Bannu and Dera Ismail Khan in February.
The project, which initially covered 3% of the population in four KP districts in 2016, was extended to 51% of the population in the entire province in 2017. It covered 69% in 2018. By January 2021 officials expect it to serve all of KP.
"About 1.2 million families in erstwhile FATA have already been getting free services through the federally funded programme," said Dr. Riaz Tanoli, the KP director for the SSP, referring to the former Federally Administered Tribal Areas.
A total of about 6.6 million families in KP will be eligible for free health services by January, he added.
So far, federal authorities have spent $42 million (Rs. 7 billion) to treat about 200,000 patients in the province since 2016.
After its launch in 2016 in KP, the SSP health measure is expanding nationwide and eventually will cover a total of 80 million Pakistanis living below the poverty line.
The SSP has been extended to Punjab Province as well.
"We have registered 5.1 million families in all 36 districts of Punjab on the basis of poverty. The programme will extend coverage to the entire population in Punjab by 2023," said Dr. Faisal Sultan, the special assistant to the prime minister on health.
The initiative offers special incentives for pregnant women, who can get free services at hospitals and receive $30 (Rs. 5,000) for transportation costs, he added. In the case of the death of any patient in the hospital, families will receive $60 (Rs. 10,000) for funeral arrangements, Sultan added.
Victims of terrorism
The inhabitants of militancy-hit areas deserve to benefit from the initiative, said Dr. Javid Shah, a senior medical officer at the KP directorate of general health services.
"Militants damaged 124 health facilities in erstwhile FATA from 2005 to 2012 and barred female health workers from working," he said. "Patients, especially women, were on the receiving end of the Taliban's ruthlessness."
"Not only did the militants damage health facilities, they kidnapped at least a dozen doctors, which caused restlessness among medics in the province," he said.
Other doctors "went on strike to protest the abduction of their colleagues, and that resulted in the suspension of services, while some doctors refused to be posted in militancy-hit areas", he added.
The launch of the SSP is a step in the right direction, especially in violence-prone areas of KP, said Dr. Qaisar Sajjad, general secretary of the Pakistan Medical Association.
"This will lead to the improvement of health indicators regarding women's and children's health as well as immunisation. Tribal areas have the lowest health indicators because of terrorism. We hope that now the situation will improve," he said.
A path to peace
The healthcare measures will help lead to peace in the area, said Dr. Muhammad Ismail, a medical officer at District Headquarters Hospital in Miranshah, North Waziristan.
"There are examples of those who joined militant groups when they needed money for the treatment of loved ones, but because free health services are available now, the terrorists won't be able to recruit people to carry out acts of terrorism," he said.
Tahir Ali, a local transportation driver from South Waziristan and a beneficiary of the SSP, is grateful for the initiative because his wife can get proper treatment for her diabetes.
"The new programme has been a blessing as my wife is now getting uninterrupted and free services in a private hospital in Peshawar. We just present our national identity cards at the hospitals," he said.
"We are thankful to the army for evicting militants and establishing peace, and also to the government for introducing this scheme," Ali said. "The programme is much appreciated."