PESHAWAR -- A young human rights activist from Swat District has been honoured by the United Nations (UN) for her work in fighting early and forced marriages in Pakistan's tribal regions.
Hadiqa Bashir, 18, was named as a Young Leader of the UN's Sustainable Development Goals programme for 2020.
She was selected along with 16 other youths for their efforts in advancing the rights of young people in their respective countries, the UN Office of the Secretary-General's Envoy on Youth said on its website.
"Meet the 17 change makers from all over the world, who help lead the way to a more sustainable and inclusive future for all," the UN tweeted on September 18.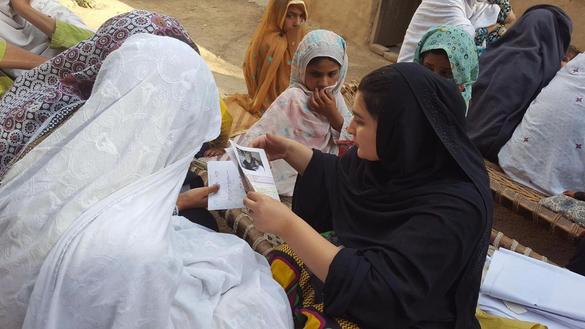 The tweet included photos of all the selected young leaders, including Bashir.
"It's a great honour for me to be among 17 young leaders across the globe to selected by the UN, and it has infused a new spirit in me to work with more vigour to attain the goals I have been working for," Bashir said.
"It's really awesome for me to become one of only 17 selected from across the globe amid a strict scrutiny of 7,000 candidates from 172 countries," she said.
"I am second in the list of 17 young leaders, just behind an American applicant who was selected as number one," she added.
Fighting early marriages
Bashir recently completed her 12th grade studies and has been an activist for girls' rights for the past five years in the tribal regions, an area that has been a hotbed for militants.
For years, the Taliban used to broadcast threats on the radio to intimidate women and girls from going to schools in the region.
"I was born into a patriarchal society in the Swat Valley's Saidu Sharif area, and I am working against early and forced marriages," Bashir said.
Her two aunts were married at an early age, she said, recalling that when she turned 11, her grandmother began planning a marriage for her.
"I opposed and argued with my elders to drop this plan of marrying me off at an early age, and my resistance succeeded," she said.
Bashir said her success inspired her to help protect other girls from marriage at an age when they are supposed to play and study, she said.
"I started working on the community level by sensitising people and met men and women in my area to inform them about the negative impacts of early marriages on the lives of girls," she said.
"My commitment to this goal expanded the scope of my work, which now has extended to covering poverty, women's economic empowerment through skill development, violence against women, and transgender rights, as well as safe and sustainable cities for women and girls," she said.
Bashir founded an organisation called Girls United for Human Rights and formed a group of 10 girls who are committed to working for girls' rights in the region.
'A message of encouragement'
Bashir has ignored threats from anonymous callers demanding she halt her efforts.
Her future plans include registering her organisation, which has been delayed because of age requirements. In addition, she plans to study psychology or philosophy when she pursues a higher education.
Amina Durrani, programme director at the Khyber Pakhtunkhwa (KP) Commission on the Status of Women, lauded the work of Bashir and the international recognition she has received.
"The selection of a teen girl from Pakistan is a big honour for women of the country and will send a message of encouragement to her peers to work with more dedication and diligence," she said.
The honour will help convey a positive picture of the country in which youth are working to improve girls' rights and meet the sustainability goals set by the UN, she said.
"It's a commendable development reflecting the sense of responsibility among our new generation, who are concerned about immoral practices in society and want to contribute to eradicating them," Durrani said.
Mossarat Qadeem, a peace activist from Peshawar and recipient of the UN Development Programme N-Peace Network's "Campaigning for Action" award in 2016, praised Bashir's honour and work.
"It is encouraging that those working for human rights and sustainable development get international recognition and acknowledgment," she said.
Qadeem urged Bashir to continue to concentrate on her work for girls' rights and protection.
Bashir's selection "has proved that Pakistan's youth has the talent and encouragement to work hard at defying existing social evils that endanger lives," said Darwaish Arif, a member of the KP Youth Assembly.
The KP Youth Assembly is proud of the work of youth such as Bashir and Malala Yousafzai, who have conveyed a message to the world community that Pakistani youth are fully committed to improving living standards in their homeland by eradicating centuries-old immoral practices, said Arif.
Yousafzai, who also is from Swat, is the youngest person ever to win the Nobel Peace Prize. At the age of 11, she began fighting for girls' right to education. Four years later, in 2012, she was shot by Taliban gunmen in Swat. She recovered and won the Peace Prize in 2014 at the age of 17.
Yousafzai continues to be a leading advocate on the issue.