KARACHI -- Tens of thousands of Pakistanis took part in protests in Karachi over three days to demand the arrest of Shia clerics accused of blasphemy and to criticise the Iranian regime for fuelling sectarianism in the country.
From Friday to Sunday (September 11-13), Islamic groups representing various schools of thought organised rallies in Karachi to demand that the government take action against those who, they contended, used abusive and insulting language against the companions of the Prophet Muhammad during Muharram.
Although all Muharram mourning processions on August 30 across the country took place peacefully and safely, a televised broadcast of an Ashura procession showed clerics and participants allegedly using derogatory language against the historic Islamic figures.
"I want to thank our nation for the peaceful observing of Ashura in the country," Prime Minister Imran Khan tweeted August 31. "However, unfortunately, information has come to me of elements who tried to ignite flames of sectarianism on this occasion and I will be taking very tough action against them."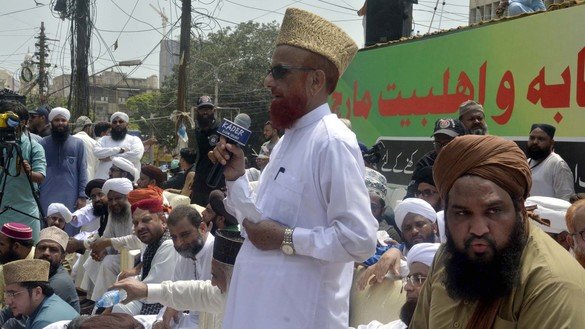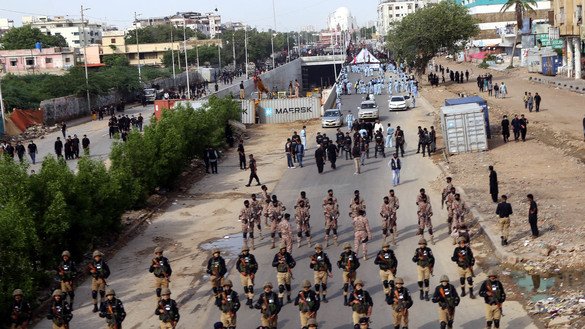 Speakers at the three rallies in Karachi condemned insults to the Prophet's companions that might have occurred during the Ashura processions and called for the registration of cases under terrorism laws against those involved.
They demanded the establishment of a national commission to stop sectarianism, religious hatred and incitement.
"Pakistani Muslims will not tolerate any more defamation of the holy figures," said Hafiz Ahmed Ali, the Karachi head of Jamiat-e-Ulema Islam (Sami) (JUI-S) and one of the organisers of a rally on September 11.
Pakistan should enact strict legislation to foil efforts to reignite sectarian violence in the country, he said.
Pakistan's law enforcement taking action
Several law enforcement bodies including the Counter Terrorism Department, Special Branch and the Federal Investigation Agency's Cyber Crime wing have been working to identify clerics and individuals who allegedly were involved in spreading religious and sectarian hatred in the country, said a senior official at the National Counter Terrorism Authority (NACTA) who spoke on condition of anonymity.
Police have arrested hundreds of suspects, mainly in Punjab Province, in connection with charges of spreading hate speech and sectarianism on social media before, during and after the month of Muharram, he said.
Special police units monitoring religious gatherings, Shia processions and social media platforms have arrested dozens of clerics, according to Suhail Sukhera, a senior Punjab Police official.
"Police have been taking action against every violator without any discrimination over the use of derogatory remarks against pious family members of the Prophet and his companions," he said.
Tehran's role in insecurity
Leaders and participants in the three rallies also criticised the Iranian regime for fuelling sectarianism by spreading disinformation and hatred through social media.
A special report in 2018 by Reuters identified more than 70 websites that push Iranian propaganda to 15 countries, including three disinformation websites in Pakistan and four in Afghanistan.
The recent rise in hate material on social media is helping fuel sectarian violence in Pakistan, said Maulana Abdul Jabbar, a scholar who attended a protest in Karachi.
"Iran is behind the conspiracy to spread turmoil not only in Pakistan but also in other Muslim countries, particularly Saudi Arabia and Syria," he said.
The elements of fanaticism and sectarianism in Pakistan have a direct link to Iran's revolution, said Mohammed al-Sulami, founder and chairman of the Rasanah: International Institute for Iranian Studies think tank in Riyadh.
"The fanaticism and sectarianism expressed during Ashura can serve as a wake-up call for Pakistan before the country's hard-earned peace and harmony comes to an abrupt end," he said in a September 7 article in Arab News.
Al-Sulami voiced his concerns that Pakistani media does not "highlight or expose the nefarious activities of non-state actors aligned with Iran's Islamic Revolutionary Guard Corps" (IRGC).
"There has been virtually no coverage of the individuals involved in the recruitment, training and transfer of fighters to join the Zainabiyoun Brigade in Syria," he said.
The IRGC-backed Zainabiyoun Brigade is comprised of Pakistani Shia sent to fight in Syria in support of Bashar al-Assad's regime.
"How many Pakistanis have received military training in Iran and Iraq? How many have gone to fight in Syria?" al-Sulami said.
Pakistan's intelligence agencies have raised concerns over Shia pilgrims falling victim to Iranian influence and recruitment into Tehran-backed mercenary groups fighting in Iraq and Syria.
NACTA has intensified its crackdown on militant outfits that send Shia youth to fight in Iraq and Syria.
In August, the federal government banned the Khatam-ul-Ambia militant group for sending Shia youth to Syria to fight along with Iranian-backed fighters that support Syrian government forces.
Law enforcement agencies earlier this year arrested dozens of Shia youth who belonged to the Zainabiyoun Brigade.