ISLAMABAD -- Even though militancy in Pakistan has waned amid improved security measures, extremists and some segments of society still view women as property, targets for killing if they supposedly betray a man's honour, and a lesser gender.
Defying such cultural and socio-economic barriers, women in Pakistan, including Zoha Malik Sher and her five sisters, are proving that they can attain professional success.
Zoha Malik Sher, the youngest of the siblings, last year passed the Central Superior Services (CSS) civil service exam, following the footsteps of her sisters who all passed the exam and serve in various civil service posts in the country.
Malik Rafiq Awan, the father of the Sher sisters, always encouraged them to pursue professional careers, in defiance of the social and traditional pressures holding them down, he told the news website Naya Daur.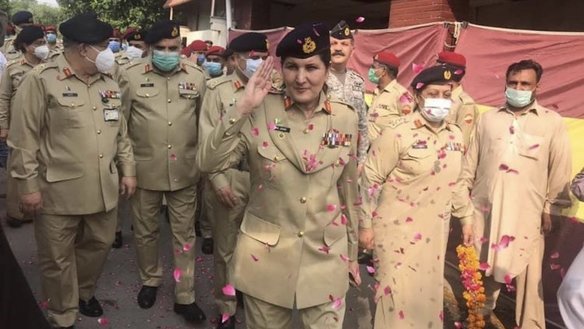 The success of the Sher sisters and others in breaking through barriers reflects the surging role of women in Pakistani institutions and society after decades of oppression by extremist ideologies.
Nigar Johar, from Panjpeer village, Swabi District, KP, also has proven that, given the opportunity, Pakistani women can attain career heights that formerly were reserved for men.
Johar became the first-ever woman in the Pakistani army to reach the rank of lieutenant general, Maj. Gen. Babar Iftikhar, a spokesman for the army, announced on June 30.
'Utmost perseverance and hard work'
Rabail Kennedy, the daughter of a driver at the Federal Board of Revenue (FBR), recounted facing several challenges before she passed the CSS exam.
"With limited resources and socio-economic pressure, I didn't have the best opportunities to prepare," she said. "In addition, I feared failing the exam, which would have shattered the dreams of my parents."
"Lastly, I feared being unable to maintain a balance among my job, my master's degree preparation and my CSS preparation," Rabil said.
"But with utmost perseverance and hard work, I kept fighting and against all odds I passed the CSS exam and was appointed to the Foreign Service of Pakistan," she said.
Strong family support is key to helping women break down barriers and achieve their goals, said her father, John Kennedy.
"In a society with all its diverse norms, there are many stereotypical pressures that a father faces when he decides to watch his daughter overcome obstacles and make a mark in the world," he said.
"But despite all this, I trusted and supported my daughter to face all these challenges to achieve her ambitions. I never allowed her to think that she was inferior to anyone."
"I supported her with everything I had," he said.
Success in politics
Samar Haroon Bilour is another example of how pure determination can be help women break free of traditional societal restraints.
Bilour entered politics after her husband, a leader of the Awami National Party (ANP), was killed in a suicide attack in Yakatoot village, Khyber Pakhtunkhwa (KP), in July 2018.
She is now the first woman to have won a general (non-quota) seat in the KP Provincial Assembly and is a spokesperson for the ANP.
Access to education is vital for lifting up women and spurring them to success in the country, said Bilour.
"Women cannot come forward and educate themselves; it is the families who have to educate and focus on them when they are children and provide an environment in which they believe they can compete with males in society," she said.
"If you nurture your child properly, then if and when necessary, she can step out of the boundaries of her own four walls and compete in a world that is otherwise dominated by men," Bilour added.