KARACHI -- Pakistani fishermen are demonstrating against the arrival of Chinese deep sea trawlers in Sindh and Balochistan, saying they are threatening their livelihoods and destroying the local marine ecosystem.
The Pakistan Fisherfolk Forum (PFF) and the Pakistan Bonafide Fishermen Forum on September 2 organised a march in Karachi to protest the arrival of 20 Chinese deep sea trawlers the last week of August.
The Sindh government inked an agreement with Fujian Hengli Fishery Co., a Chinese company, to allow the trawlers to run a deep sea fishing operation, according to a recent letter from the government's Co-operation Department.
The Chinese trawlers have yet to start fishing.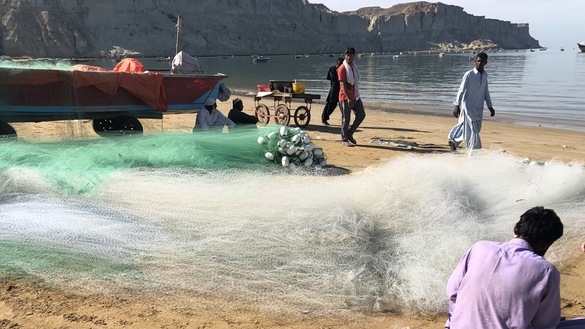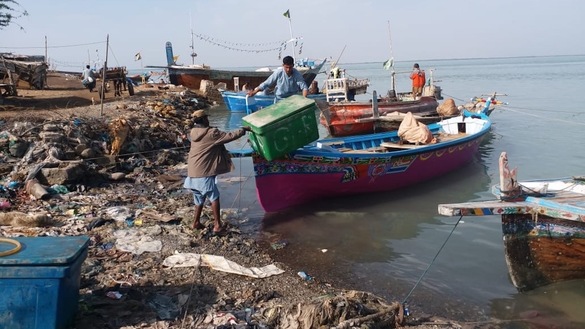 Hundreds of fishing workers took part in the rally, raising concerns that the Chinese trawlers will be able to fish in the exclusive economic zone off the two provinces and deplete already declining fish stocks.
Protesters demanded that the government withdraw its decision to provide licences to Chinese deep sea fishing trawlers.
Fish stocks in Pakistan's coastal areas are plummeting from uncontrolled fishing, said PFF Chairman Muhammad Ali Shah, who cited a fish-stock assessment conducted by the United Nations (UN)'s Food and Agriculture Organisation with the support of the federal government.
"Fishing by the Chinese trawlers will further deplete Pakistan's marine resources," Shah said.
Selling Pakistan's seas
Fishermen in Gwadar, the site of a deepwater port development project that is part of Beijing's Belt and Road Initiative (BRI), are protesting against the arrival of Chinese vessels.
"Fishing in the sea is a source of livelihood for more than 2.5 million people in the coastal towns of Sindh and Balochistan, and the new Chinese deep sea trawlers will deprive us of our livelihood," said Khuduaidad Waju, a leader of fishing workers in Gwadar.
Allowing the trawlers to fish is tantamount to selling the seas of Balochistan to China, Waji said.
Chinese vessels fishing outside their country's waters have long been accused of engaging in illegal behaviour.
More than 700 Chinese vessels last year appeared to be violating UN sanctions that prohibit foreign fishing in North Korean waters, according to an August report by YaleEnvironment360, an online magazine published by Yale University.
The sanctions, imposed in 2017 in response to the country's nuclear tests, were aimed at punishisng North Korea by not allowing it to earn valuable foreign currency for selling rights to fish in its waters.
Chinese vessels have used trawling nets stretched between two vessels, a practice that conservationists denounce because it inadvertently and wastefully kills fish, the report said.
"Having depleted the seas close to home, the Chinese fishing fleet has been sailing farther afield in recent years to exploit the waters of other countries," it said.
Reservations over growing Chinese influence
The Chinese regime has inked deals with Pakistan for several multi-billion-dollar infrastructure projects, raising concerns over Chinese influence in the country.
The exponential growth of Chinese influence in Balochistan Province -- with Chinese companies exploiting local resources without care or concern for the impact on locals -- is driving serious unrest in the province, say lawmakers and observers.
In the Saindak area of Chaghi District, Balochistan, Chinese companies have extracted copper and gold deposits without any local, national or international supervision.
Contrary to national and international law, Chinese companies did not invest in education, health or infrastructure in Chaghi District, local residents and political leaders have said.
Projects linked to the BRI in Sindh Province have drawn protests from residents in the Thar Desert region after studies showed that coal-mining projects under the initiative will be a major air pollutant in South Asia and will expose the local population to serious health risks.
Meanwhile, anger over growing Chinese influence in Balochistan has spurred Baloch and Sindhi militant organisations to ally with each other, fuelling concern that the combined group will step up violent activities in the region.
The Baloch Raji Aajoi Saangar (BRAS) and the Sindhudesh Revolutionary Army are now working together "in light of the current scenario in the region as both [Baloch and Sindhis] have severe reservations over growing Chinese influence", BRAS said in a statement in July.