ISLAMABAD -- Pakistanis are demanding that authorities ban TikTok, a Chinese video-streaming platform, over concerns about data privacy and "vulgar" content available on the application.
TikTok, which allows users to share short videos, is owned by ByteDance, a Beijing-based internet technology company. The app has been facing increasing controversy worldwide over how it collects and uses data.
Several countries, including the United States, India, and Bangladesh, have prohibited using TikTok, citing concerns about the app's privacy, security controls and practices.
On August 5, US President Donald Trump issued an executive order that will effectively ban TikTok and WeChat, another Chinese app, from the US market because of national security concerns.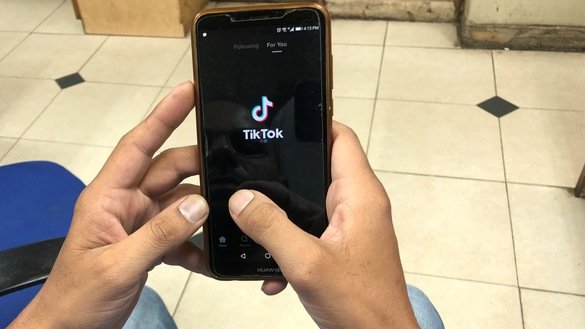 Similarly, India on July 23 outlawed TikTok and another 52 Chinese apps, arguing these apps are using data illegally and are secretly collecting information from phones whose owners download the apps.
TikTok is facing intensifying scrutiny in Australia with intelligence agencies investigating whether the app poses a security threat, while some parliamentarians are demanding that the government ban the platform.
"Pakistan should follow these countries' steps and immediately ban the app using local laws, such as the Pakistan Electronic Crimes Act (PECA), as it poses a great threat to people's privacy and the country's sovereignty," said Saleem Chaudary of Karachi, a software engineer who works on digital security issues.
In 2016, Pakistan's parliament passed PECA to regulate, among other things, content on the internet. The law gave the Pakistan Telecommunication Authority (PTA), the government's telecom regulator, broad powers to block content considered to be against "the glory of Islam or the integrity, security or defense of Pakistan or ... public order, decency or morality".
"On the basis of reports that TikTok steals data from users' devices and sends it to China, many countries have banned the app," Chaudary said.
The PTA has blocked thousands of websites and platforms from being accessed within the country. Those have included websites that undermine the country's security and foreign policies or promote extremism, as well as pornographic sites.
Some of the websites were run by trans-national militant groups, such as the "Islamic State of Iraq and Syria" (ISIS), which has used TikTok to post propaganda videos.
The videos featured corpses being dragged through streets and ISIS fighters with guns, according to a Wall Street Journal report last October 21.
For its part, Beijing has blocked Western-based social media platforms at home.
The Chinese regime prohibits use of Twitter, YouTube, Google and Facebook and uses a "Great Firewall" to restrict access in China to news and information.
Chinese diplomats and state media hypocritically take advantage of openness abroad and have flocked to such platforms in recent years to push Beijing's narrative.
Promoting vulgarity, harmful content
In addition to security concerns, Pakistani authorities recently have issued warnings to TikTok to clamp down on content that it has labelled as "immoral, obscene and vulgar".
The PTA repeatedly warned TikTok in July that Pakistan would ban the app unless it cracks down on such content.
"On complaints of immoral, obscene and vulgar content, streaming app Bigo has been blocked in Pakistan. TikTok has also been served with a final warning on the same grounds," the PTA said on July 21.
In July, Rabia Nusrat, a member of the Punjab Assembly, submitted a resolution in the provincial legislature to outlaw TikTok in Pakistan.
"The indecent and vulgar language being used on TikTok will have a negative impact on society," Nusrat said. "The app has not only been used to blackmail people, but it also mocks religion."
Nadeem Sarwar, a lawyer based in Lahore, filed a petition at Lahore's high court in July on behalf of a concerned citizen. His client is seeking an immediate prohibition of TikTok.
TikTok is harmful to youth and will prove detrimental to Pakistan's social fabric, stated the petition.
"The same application has already been banned in Bangladesh and Malaysia for its pornography and inappropriate content and its use for mocking people," Sarwar said.
Youth groups have sought to outlaw TikTok after a number of young Pakistanis died while filming videos for the app.
In June, Tanveer Ali, 19, accidentally shot and killed himself while filming a clip for TikTok in the Sikandar Goth neighbourhood of Karachi.
In April, a 22-year-old man died after being hit by a train while shooting a video at the Jumma Goth railway station in Karachi.
Islamabad police on July 21 arrested a man who was shooting videos with firearms and ammunition for TikTok.
Many videos on the platform promote racism, pedophilia and disrespect toward women, said Arsalan Ahmed Awan of Karachi, a youth activist who started an online campaign to ban TikTok in Pakistan.
"In today's world, sexism and racism are at an all-time high, and an app that supports all those terrible things should not exist in 2020," Awan said.