ISLAMABAD -- A Chinese online retailer's sale of Muslim prayer mats as decorative rugs last month sparked outrage among consumers worldwide, including in Pakistan.
The rugs sold by Shein, a Chinese women's fashion company, looked similar to the type of mat that Muslims use and feature pictures of Kaaba as well as the words "Ramadan Kareem" on them.
Some of the descriptions of the rugs used by the online retailer include "fringe trim carpet," "fringe trim Greek fret carpet" and "fringe trim graphic carpet."
Many consumers including Pakistanis expressed their anger on social media, saying that they were revolted at the religious insensitivity of the Chinese retailer and angry that the seller was trying to profit from selling holy mats as rugs.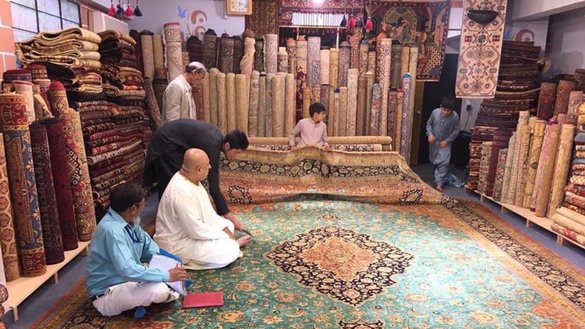 "I am disgusted. I am livid," said journalism student Khadija Rizvi on Instagram.
"A few have 'Kaaba' printed on them. This is highly offensive," said Rizvi, who called for a boycott of Shein.
"Not only is it disrespectful, but they once again renamed and stole credit from a whole faith this time by failing to label it as a Muslim prayer mat. This allows people to use it casually as a decorative mat."
Disrespect toward religion
It is not the first time the company has courted controversy. Shein was also slammed after it offered necklaces shaped like a swastika for sale on its website.
Following scathing global backlash for its sale of prayer mats as decorative rugs, the Chinese firm offered an apology via an Instagram post on July 5 and said that the fashion company had made a "serious mistake".
Shein added that it has removed the products from its site as well as asked vendors to stop selling the rugs to other retailers.
However, the firm's attempt to profit from the sale of the mats is indicative of China's overall insensitivity and disrespect toward religion and other cultures and values, say traders and religious scholars.
"The entire Muslim world is showing its anger to China over the Chinese company's act," said Maulana Abdul Baqi, a religious scholar in Karachi.
"It is a condemnable and unacceptable act."
The incident comes as Beijing faces mounting international pressure for its crackdown on minority Muslims in Xinjiang Region.
Beijing over the past few years has placed hundreds of thousands of Muslims, including ethnic Kazakhs and Kyrgyz, in indoctrination camps, and the United States has imposed sanctions on the regime for its "horrific and systematic abuses" of Uighurs and other Muslim groups.
Diet Prada, an Instagram account that acts as a fashion industry watchdog and regularly denounces malpractice in the fashion world, posted about the prayer mats.
Citing the Australian Strategic Policy Institute (ASPI)'s March report titled "Uighur for Sale -- 'Re-education', forced labour and surveillance beyond Xinjiang," Diet Prada said on July 6 said that 83 foreign, mainly Chinese, companies have been connected, directly or indirectly, to forced Uighur labour.
At least 80,000 Uighurs were transferred out of Xinjiang to work in various supply chains throughout China, estimated the ASPI.
Selling faulty equipment
"Chinese companies will do anything to make a profit and are racist or culturally insensitive," said Hassan Javed, a Lahore-based businessman who has worked with Chinese companies in the past.
"They [Chinese companies] sell faulty items and cheat traders," Javed said. He urged the Pakistani government to monitor the affairs of Chinese traders and protect local businesses from their fraudulent activities.
Beijing and Chinese companies have faced also criticism for selling substandard personal protective equipment to countries including Pakistan during the coronavirus pandemic.
In addition, Chinese-made test kits for detecting COVID-19 are giving incorrect results, leading to major problems and distress for both Pakistani healthcare workers and those being tested.
Recently, the US Justice Department sued a Chinese company for selling about 500,000 fake and substandard N95 masks in April as the COVID-19 pandemic swept the world.
The exponential growth of Chinese influence in Balochistan Province -- with Chinese companies exploiting local resources without care or concern for the impact on locals -- is driving serious unrest in the province, say lawmakers and observers.
In the Saindak area of Balochistan, Chinese companies have extracted copper and gold deposits without any local, national or international supervision.
Contrary to national and international law, Chinese companies did not invest in education, health, or infrastructure in Chaghi District, local residents and political leaders have said.