KHAR, Bajaur District -- The Punjab Education Endowment Fund (PEEF) is set this week to disburse funds to the colleges of tribal students awarded the scholarship.
The Punjab government launched the PEEF in December 2019 to support students who suffered from terrorism or are disabled, impoverished or orphaned. The scholarship is also available to minority students.
The selection committee made its final decisions in early July, but the coronavirus pandemic delayed disbursement of the funds, said officials.
The PEEF awarded 65 scholarships, including 30 for intermediate students (12th grade), 20 bachelor-level students and 15 masters-level students.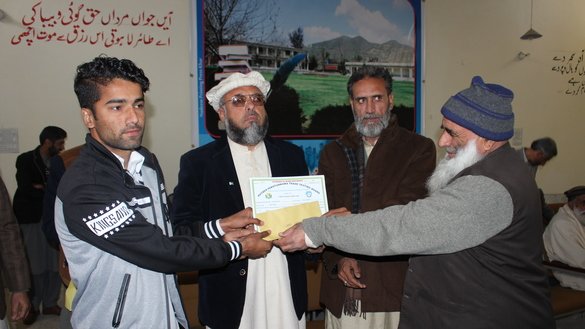 The scholarship went to students who secured 60% marks on their Matric (10th grade), F.Sc (12th grade) or bachelor exams, and whose family income is less than Rs. 23,000 ($138) per month, according to Masood Khan, the PEEF focal person in Khyber Pakhtunkhwa.
The scholarship amounts range from Rs. 7,000 ($42) to Rs. 15,000 ($90) per year, depending on the requirements of the students.
Children of those killed in terrorism incidents are exempt from the income requirement, he added.
Relief for tribal students
"The PEEF scholarship will not only pave the way to continue my education but will also flash a spark of courage in me so as to study with zeal and zest," said Rafi Ullah, 19, a student at the Government Degree College Bajaur.
"The PEEF scholarship is a huge financial relief for poor students like me," he said.
"I am happy that my admission fees will be reimbursed as I belong to a very poor family," Rafi said.
"I was in search for such opportunity, and this scholarship will end all the financial hurdles that I face in getting an education," he added.
"This is good news for me and my family that I am selected for the PEEF scholarship, and it's a ... relief for my family regarding my educational expenses," said Musa Khan, a student at the Government Post Graduate College Bajaur Khar.
Students of the merged districts need such support to complete their education, he said, urging more organisations to support tribal students who in the past could not obtain an education because of militancy and terrorism.
"This will encourage students to achieve their goals," he added.
"The scholarship wil inspire talented students of the tribal districts, especially those whose parents made sacrifices for this country in the war against terrorism," said Rehan Zeb, chairman of the Tribal Youth Forum based in Islamabad.
Students from tribal districts have the most financial needs and poor students need more attention as militancy has badly affected the education system of tribal districts, he said.
"The criteria set for this scholarship will support real students of tribal districts, because in the past students from other districts got different types of scholarships based on having a fake domicile in the tribal districts," Rehan said, adding that supporting minority students is another positive step of the endowment fund.