ISLAMABAD -- The Pakistani government has welcomed a decision by the United Nations Security Council (UNSC) to sanction Tehreek-e-Taliban Pakistan (TTP) chief Mufti Noor Wali Mehsud.
The UNSC's sanctions committee on July 16 designated Mehsud as a global terrorist for "participating in the financing, planning, facilitating, or perpetrating of acts or activities by, in conjunction with, under the name of, on behalf of, or in support of entities associated" with the al-Qaeda terrorist network.
The move puts Mehsud on the UN's "Islamic State of Iraq and Syria" (ISIS) and al-Qaeda sanctions list.
The TTP was designated in July 2011 for its association with al-Qaeda.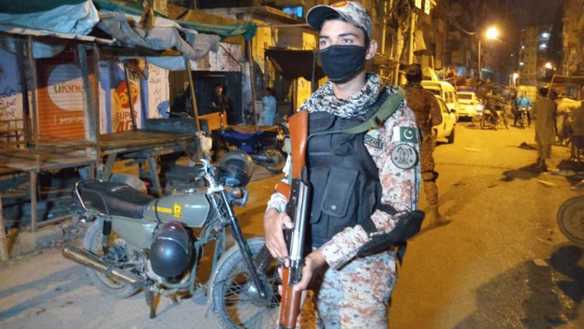 Mehsud, who uses the alias of Abu Mansoor Asim, was named the leader of TTP in June 2018 after his predecessor Mullah Fazlullah was killed in a joint operation carried out by US and Afghan forces in Kunar Province, Afghanistan.
Under Mehsud's leadership, the TTP has claimed responsibility for numerous terrorist attacks across Pakistan.
Those include include an assault targeting Pakistani security forces in North Waziristan in July 2019 and a bombing against Pakistani soldiers in Khyber Pakhtunkhwa in August 2019, the UNSC said.
Mehsud will be subject to asset freezes, a travel ban and an arms embargo.
The US State Department last September designated Mehsud as a global terrorist.
Pakistan's Foreign Ministry on July 17 welcomed the UNSC's decision to add the TTP chief to its sanctions list.
"The sanctions are being implemented by Pakistan in compliance with the relevant UNSC resolutions, and we hope that other countries will also follow suit," Aisha Farooqui, a spokesperson for the office, said in a statement.
"Pakistan will continue to pursue its policy of fighting against those involved in participating, financing, planning, facilitating and perpetrating terrorism," she said.
A weakened group
Mehsud, who is in his 40s, hails from Gorgoray village in Sararogha Tehsil, South Waziristan, and belongs to the Michikhel sub-clan of the Mehsud tribe.
He previously served as a TTP judge of a Sharia court and headed the group's training centre in his native village.
In the past, he has worked against polio immunisation, spreading propaganda that the vaccines are part of a Western conspiracy to make Muslims impotent or stunt the growth of their children.
As leader of the TTP's Karachi chapter from June 2013 to May 2015, Mehsud tormented the city's Pashtun community with a murder and extortion campaign as well as school bombings.
The TTP has served as an umbrella organisation for various militant groups since its formation in December 2007. Its attacks have hit civilians, law enforcement personnel and polio vaccination teams, among other targets. It has bombed government installations and places of worship.
However, the counter-insurgency Operation Zarb-e-Azb in 2014 effectively dismantled the TTP's command-and-control centres nationwide, according to security officials.
Following a crackdown on various factions of the TTP across the country, the militants fled to provinces in neighbouring Afghanistan.
A number of key TTP leaders have been killed in joint operations along the border over the past few years, Mehsud admitted in his own recent book, "Inqilab Mehsud".
"The weakening of the group was not possible without the assistance of the United States because of the killing of all TTP chiefs ... and other important commanders in drone strikes," said a senior intelligence official on the condition of anonymity.
The TTP has disintegrated and lost strength from sustained military pressure, the killing and arrest of high-ranking commanders, and internal fissures, said Munir Ahmed Shah, a Karachi journalist who focuses on militant outfits.
"It is difficult for the TTP to find new recruits ... because it has lost its ability to convince the public that it is fighting for Islam," he said. "The militants have killed so many innocent civilians, including schoolchildren and worshippers."