PESHAWAR -- Polio vaccinators in Pakistan are continuing their work despite the coronavirus pandemic, especially in the newly merged tribal districts.
Even while maintaining social distancing and following standard operating procedures, health workers were able to reach areas previously off-limits for them because of terrorism.
"Taliban militants didn't want to allow children to grow up in a healthy atmosphere; therefore, they banned vaccinations and about 2,000 children contracted polio [during 2001-2015] in the then-Federally Administered Tribal Areas [FATA]," said Dr. Jawad Ali, a polio officer in South Waziristan District.
Workers are not only conducting vaccinations, but also spreading awareness regarding COVID-19 safety measures, he said.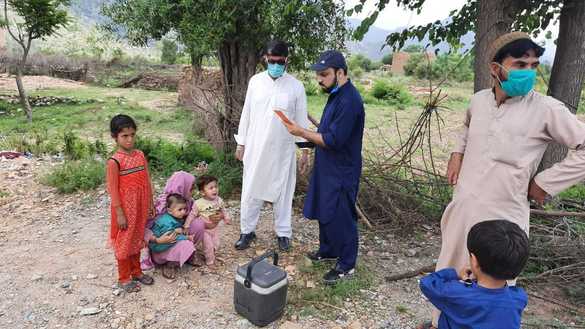 The vaccination rate is improving rapidly as inhabitants are co-operating with the government to safeguard their children, according to Ali.
Another five-day anti-polio campaign in South Waziristan is set to begin July 20.
The last vaccination campaign carried out from June 15-27 covered 81% of children in the target area, according to Dr. Hafizullah, manager of the Expanded Programme on Immunisation (EPI) in the Merged Districts.
"We have immunised 123,323 children out of 153,417... in seven tribal districts, which is more than the 75% coverage achieved in February this year," he said.
Children received vaccinations at 317 EPI centres in all districts as well as during door-to-door visits, he added.
Within next year, the EPI will increase the number of vaccinators from 593 to 800 to further strengthen the network and ensure that residents receive immunisations at their nearest centres, he said.
Authorities are using all available resources to provide better health facilities to residents, said Dr. Niaz Afridi, director of health services for the merged districts, who inaugurated the campaign in South Waziristan June 16.
"The parents are aware of the significance of immunisation for childhood ailments, but in the past terrorism prevented them from vaccinating their children. Now, the situation has changed completely, and they are able to bring the children for immunisation without fear," he said.
The immunisation effort for 10 vaccine-preventable diseases, including tuberculosis (TB), polio, diarrhoea (rotavirus), pneumonia, pertussis (whooping cough), tetanus, hepatitis B, meningitis, diphtheria and measles, has suffered a great deal because of extremism, he said.
Several outbreaks of measles, polio and other diseases badly affected children in the past, but now medics are able to protect them through free vaccinations, he said.
In the recent campaign, medics saw the keenness of parents who brought their children to the visiting teams for vaccination, he added.
The main objective of such drives is to scale up society's immunity against immunisable diseases, Afridi said.
Improved security
Muhammad Aslam, a health worker in North Waziristan, recalled how Taliban militants prevented the immunisation of children.
"Only a few years ago, it looked like only a dream that children in terrorism-hit areas would ever get vaccinations and protection against ailments."
Recent successes are "a slap in the face of terrorists who staunchly opposed vaccination", he said.
"Militants used to break our vaccination boxes and berate our colleagues with strict warnings," he said. "Now, there are no threats, and we carry out work quite freely. The Pakistani army and police are protecting workers."
"In the past, my two children were paralysed because of lack of polio vaccines, but now I have volunteered to convince others to inoculate their sons and daughters," said Zahir Shah, a shopkeeper in Khyber District.
Several children died of measles when the Taliban controlled his area, Shah recalled.
"The militants not only banned vaccination, but they destroyed schools to close the door of education for children so they could rule the population without any resistance in the future," he added.