PESHAWAR -- Chinese and Russian medical schools are handing out dubious degrees to Pakistani students unable to gain admission to schools at home but willing to pay large tuition fees for a diploma abroad, officials are warning.
Medical schools in Russia and China, with the support of their respective governments, earn hard currency from foreign students, particularly Pakistani nationals who are easily lured by recruiters of these schools, according to the Pakistan Medical and Dental Council (PMDC), the regulator of medical education in the country.
These students lack the qualifications for Pakistani medical schools, said Sardar Ali, a senior official of the PMDC.
"Those seeking medical degrees from China and Russian are unable to obtain admission in Pakistani medical colleges, which not only require high marks on intermediate examinations but also on entrance tests," Ali said.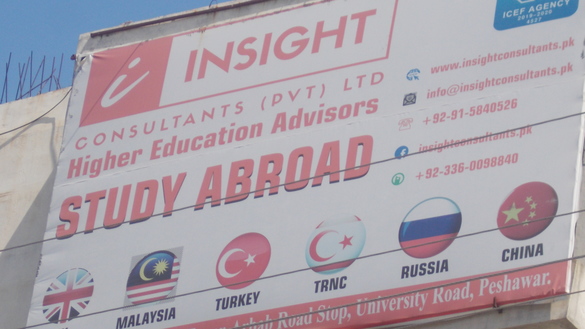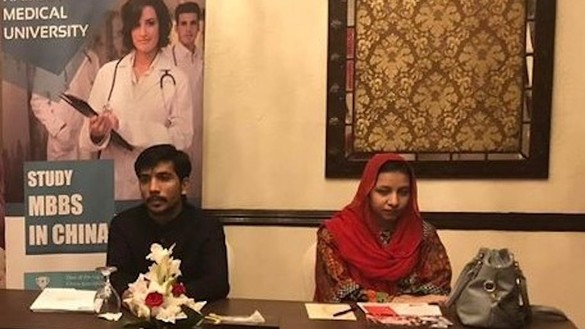 Once enrolled in these medical schools, many students are later sent back home because they cannot afford the stiff fees that both the recruiters and the schools demand for their admissions.
"We have been issuing warnings to parents and students against studying in both these countries, but they continue to seek degrees by spending huge amounts of money," Ali said.
Many medical students returning to Pakistan as "doctors" with a deficient education endanger their patients' lives, he said.
"On completion of their degrees, they cause hardships for patients back home because the standard of medical education is extremely weak compared to that in Pakistan, where highly intelligent students become medical doctors," he added.
The issue has caught the attention of the Pakistani government, which has asked the embassies of both countries to stop luring Pakistani students, said Ali.
Taking advantage of students
Although a few recognised universities and colleges in Russia and China accept students only on merit, most accept any applicant who is willing to pay their fees, which are often as much as $1,000 to $2,000 (Rs. 164,550 to 329,100) a month, said Dr. Taj Muhammad, secretary of the Pakistan Medical Association.
On the other hand, students pay $800 (Rs. 131,640) per year in tuition fees at Pakistani public sector medical colleges.
On average, more than 200,000 students from 160 countries receive medical degrees from China every year, Muhammad said.
"But most of the substandard colleges and universities capitalise on these average students for their revenue and earn millions of dollars from students who arrive there from all over the world, including Pakistan," he said.
The Russian and Chinese governments are turning a blind eye to the inferior medical colleges because they value the taxes paid by these businesses, Ali said.
"There is a massive network of hostels in cities in both countries that house overseas students studying engineering, business, economics and dentistry too," he added. "The examination system isn't as strict as is in Pakistan, where the students have to work hard to pass."
The admissions process for foreign students was much easier than in Pakistan or in European countries outside Russia, said Muhammad Rafiq, who completed his bachelor of medicine-bachelor of surgery degree at a university in Qingdao, Shandong Province, China.
"My parents wanted me to become a doctor, and I fulfilled their wish. I spent about $70,000 (Rs. 11.4 million) in six years, but I got a degree," he said.
"In Pakistan, I couldn't be admitted even to a private college let alone in the public sector medical schools because of high merit" requirements, Rafiq said. "There were about 500 Pakistani students at my college."
Barring graduates of inferior schools
The PMDC is working to ensure that medical graduates from programmes in China and Russia will not be able to practice in Pakistan, said Choudhry Mohammad Shakoor, an official at the PMDC.
"In January 2020, the PMDC decided that students obtaining degrees in China or Russia will not have jobs in Pakistan," he said.
The proposal so far has not taken effect. Shakoor did not specify whether the policy, if enacted, would compel doctors who are already working to cease their practices.
"We are in contact with the Chinese and Russians as well as Central Asian countries to curb the practice of giving admission to weak students in their universities," he said.
The PMDC aims to require students who head to medical schools in both of these countries to seek the Pakistani government's permission so that they are aware of the quality of the schools that they plan to attend, he said.
Meanwhile, the Khyber Pakhtunkhwa Health Care Commission (HCC) said it has been raiding clinics to save patients from malpractice.
"We have arrested over a dozen doctors with unrecognised degrees from China and Russia in the past few months," said HCC Director Suhail Ahmed.
"We don't allow degrees from foreign medical colleges that aren't included in the World Directory of Medical Schools," he said.
Medical schools in Russia and China have been deceiving and extorting large amounts of money from students in Pakistan who intend to pursue medical education abroad, said Suhail.
"The institutions there have neither good hospitals for clinical training nor good examination systems. The main focus is on making money. So it works both ways -- the colleges earn money and the students obtain medical degrees," he said.