PESHAWAR -- The kidnapper of a Canadian journalist was among three terrorists killed Tuesday (June 9) by Khyber Pakhtunkhwa (KP) Police, while eight others were arrested during three separate operations in the province, officials said.
"Amin Shah, who was involved in the kidnapping of Canadian female journalist Khadija Abdul Qahar and two other people in 2008, was killed during an encounter in Bannu," said Bannu Regional Police Officer Abdul Ghafoor Afridi.
Shah was wanted by KP Police and by its Counter Terrorism Department in connection with eight different cases, he said.
Qahar and her Pakistani driver and translator were kidnapped in November 2008 in Miranshah, North Waziristan -- the headquarters of Tehreek-e-Taliban Pakistan (TTP) at the time -- where she was gathering material for a documentary, according to the Pakistan Press Foundation.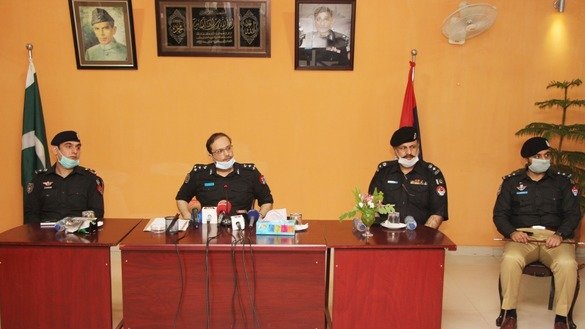 Shah kidnapped Qahar, who was known as Beverly Giesbrecht before she converted to Islam, KP Police Chief Sanaullah Abbasi said in a statement.
There are conflicting reports about how Qahar died, with some sources saying she died of prolonged illness, but Abbasi, according to Dunya News, said Shah murdered her in 2010.
The driver and translator were released after eight months, according to local news reports.
Earlier on Monday (June 8), two terrorists were killed in a shootout with police in Bannu shortly after they attacked a police patrol car in the Mundan area, said Bannu District Police Officer Yasir Afridi.
The shootout wounded a bystander and damaged the patrol car.
"During a search operation, police intercepted the terrorists who opened fire on the officers," said Yasir Afridi. Police recovered the remote control that the terrorists used to detonate a bomb attached to the police car, a hand grenade and other ammunition from them.
Meanwhile in Peshawar, police arrested eight suspected terrorists accused of involvement in various terrorist acts in the city, according to Capital City Police Officer Mohammad Ali Gandapur.
The suspects were associated with the "Islamic State of Iraq and Syria" (ISIS) and Lashkar-e-Islam, he said.
"Four were arrested during an encounter with police in Hayatabad, while four others were arrested based on information [the first four detainees] provided," Gandapur said.
The detainees were involved in attacks on police establishments as well as extortion and other incidents, he said.
"They were planning more attacks in Peshawar in the near future," he said, adding that one of those arrested is an Afghan, while the others are from Khyber District.