PESHAWAR -- Khyber Pakhtunkhwa (KP) Police are establishing reporting rooms specifically for women in the erstwhile tribal districts, enabling them to better raise their complaints with authorities.
Encouraging women to come forward will help cement the gains in security that the tribal areas made after military campaigns like Operation Zarb-e-Azb killed or expelled most of the militants operating there.
The first such reporting room in the former tribal districts was set up in Parachinar, the district capital of Kurram, in the first week of May.
"The reporting room has been set up so women of the district are comfortable with approaching the police in case of any complaint," said District Police Officer (DPO) Kurram Quraysh Khan.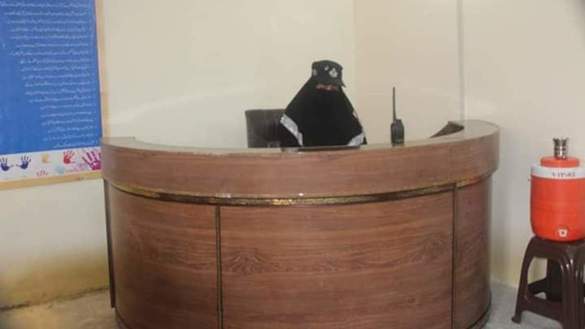 At least three female officials always will be present in the reporting room, he said, adding that KP Police hired 15 policewomen for the role.
Another two reporting rooms will be set up in central Kurram and the Sadda subdivision after the recruitment of another 50 policewomen, said Khan.
"Toys have been placed for children coming with their mothers to the reporting room," he added.
Other newly merged districts of the erstwhile Federally Administered Tribal Areas (FATA) are set to establish female reporting rooms.
"We are going to recruit policewomen as well so they can help the local police in dealing with various issues related to females," said DPO Orakzai Nisar Ahmad Khan.
"More steps will be taken for the welfare of the police and the public in coming days," said Khan.
Female reporting rooms and the women's desk at police stations in KP were first set up in July 2013 in Swat and Swabi.
Female desks were first set up in three police stations as well as the local hospital to facilitate women, said former DPO Swabi Mian Saeed Ahmad.
"The desks were set up to encourage local women to approach police in a comfortable environment according to the local culture in case of any need," said Saeed.
Normally women approach female police reporting rooms over family disputes, inheritance issues, harassment and the verification of documents as well as other police-related issues, according to Saeed.
Many women are performing well in the police force at senior levels across Pakistan, he said, adding that they are receiving public praise on social media and other forums for their bravery, hard work and commitment.
No hesitation
"The female reporting room in Kurram and other tribal districts will help local women seek help from the force ... without any hesitation," said Ihsan, a teacher from Kurram who declined to give her first name.
The women's reporting rooms and dispute resolution councils to settle local disputes were introduced to residents of FATA after the extension of the KP Police to these areas, she noted.
The KP Police extended civilian policing to the former tribal districts last year and recently merged with the Khasadars and Levies.
"There should be more public friendly forums like police access service, police assistance lines and more for the welfare of tribe members," said Ihsan.
Women should have more representation in dispute resolution councils and other forums so that local women feel comfortable approaching them, she added.
"In the conservative tribal system, women must feel comfortable enough to approach all male forums, so they need representation everywhere to encourage them to demand their rights and raise their voice against any injustice," she added.