PESHAWAR -- The Markazi Ulema Council has launched a virtual platform where laypersons can ask religious scholars for guidance by using WhatsApp and text messaging while they are confined to their homes because of the coronavirus pandemic.
The virtual Dar-ul-Afta started offering services on April 20 to cater to the needs of those who want answers to queries relating to day-to-day matters but cannot approach ulema in mosques.
"Since the first day of launching Dar-ul-Afta, the council started receiving queries from the public on a variety of subjects that are being solved in a satisfactory way," said Maulana Ubaid Ullah Haideri, president of the council's branch in Gujrawanla.
"The phone calls are increasing day by day, and our scholars are trying to satisfy callers irrespective of their sects in an impartial manner according to Sharia and the Koran," he said, adding that the ulema are "careful to deal with the public in way that minimises the chance of creating inter-sect hatred and animosities".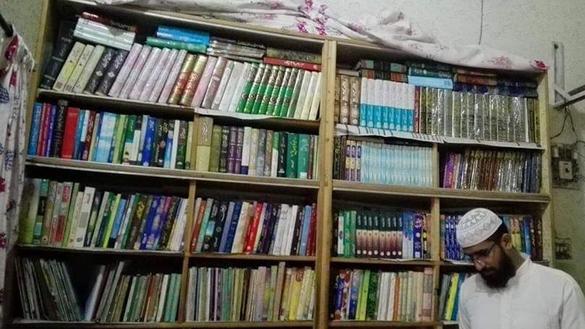 Three muftis of the council are available by phone around the clock to give guidance based on Islamic law and norms, he said.
"Anyone who wants to consult muftis face to face can visit our offices in Gujranwala and Sargodha and our main office at Jamia Qasmia Faisalabad," Haideri added.
The Markazi Ulema Council established a system of mutual consultation to answer complicated questions that need extensive discussion and deliberation, while it resolves simple questions immediately, he said.
"The council has worked diligently in the past to support efforts to eradicate terrorism, extremism and violence, and it will continue to work to save the public from indulging in these menaces that, left unchecked, can destabilise the foundations of our society," Haideri said.
"We want to establish a society in [Pakistan] that is based on tolerance, respect and mutual coexistence," he said.
The main WhatsApp number to reach a religious scholar is 0300-3068099. For mufti Shah Nawaz Farooqi, the number is 0300-6435043; mufti Hifz-ur-Rehman Banor's number is 0333-9924029 and mufti Zahid Mahmood Qasmi can be contacted at 0321-2694141.
Countering extremism, raising awareness
The Markazi Ulema Council has a history of supporting the government's fight against violence, hatred and extremist ideology and arranged a number of seminars as part of the Paigham-e-Pakistan initiative in 2019.
The events organised under the Paigham-e-Pakistan programme were also aimed to sensitise ulema, seminary students and civil society about the perils associated with terrorism and extremism.
"Islam preaches us to help each other in times of need," said Maulana Muhammad Hassan, a Peshawar-based religious scholar.
"The situation that developed after the outbreak of the coronavirus demands a different perspective from every member of society," he said, adding that each individual must rise to his or her capacity "and help each other in these unprecedented circumstances".
"The Markazi Ulema Council's new role -- after educating the public about the perils of extremism and terrorism -- is worth praising, as it aims to serve those who need guidance because of lack of knowledge but who cannot leave their homes for the safety of their families" amid the COVID-19 pandemic, he said.
The virtual Dar-ul-Afta has provided the general public with an easy and authentic way to have its queries answered according to the teachings of the Holy Koran and Sunnah, said Shakoor Tahir, former director of the Pakistan Television Corporation.
Tahir, who consulted on the Dar-ul-Afta telephone service, said he was satisfied with the guidance provided by the council's scholars.
"It is a blessing in disguise for those who want answers according to the principles of Islam but are hampered by the COVID-19 outbreak," he said.
Rana Shakil Ahmad, a resident of Gujrawanla, expressed satisfaction after contacting the virtual Dar-ul-Afta.
"The Markazi Ulema Council is making continuous efforts to serve the public and the country, whether through its endeavours to promote peace by creating awareness among the public about extremism or to keep it safe at home by offering services through online communication," he said.