KARACHI -- Pakistani authorities have set their sights on ethnic Sindhi militant groups as part of an overall crackdown on extremists.
Pakistan's Interior Ministry on May 7 banned Jeay Sindh Qaumi Mahaz-Arisar (JSQM-A), the Sindhudesh Liberation Army (SLA) and the Sindhudesh Revolutionary Army (SRA) for their involvement in terror activities in Sindh Province.
"There are reasonable grounds to believe that the organisations are concerned in terrorism," said the ministry.
The SLA and SRA have been involved in province-wide violence and targeted killings and have carried out attacks on security forces, railway tracks, gas pipelines and electricity pylons, an Interior Ministry official in Islamabad said on the condition of anonymity.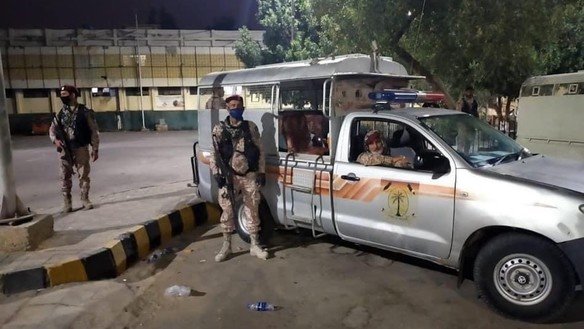 The militants of SLA and SRA have used the banner of JSQM-A, a Sindhi ethnic political group, to dodge a crackdown by law enforcement, the official said.
These organisations have connections with other proscribed militant outfits, including the Balochistan Liberation Army, which operates in neighbouring Balochistan Province, he said.
Aslam Khairpuri, the president of JSQM-A, has denied the allegations and said that his group is not linked to terrorism and militant groups.
The Interior Ministry in March 2013 banned Jeay Sindh Muttahida Mahaz (JSMM), another Sindhi militant group. JSMM chief Shafi Burfat was added to the Counter-Terrorism Department Sindh's Red Book, a list of most-wanted terrorists.
Abandoning violence
The banning of JSQM-A, the SLA and the SRA will not only help law enforcement officials in maintaining peace in the province but will encourage youth to abandon such groups, say analysts.
Members of various Sindhi groups, including JSQM-A, in recent months have renounced violence and joined non-violent political groups.
Several JSQM-A leaders in a news conference on February 10 announced their intention to join the Pak Sarzameen Party in Karachi and vowed to lead their lives as patriotic citizens.
Earlier, last December, a group of 11 JSQM-A leaders announced in Larkana that they would quit the group and join mainstream politics.
"The politics of violence, ethnicity, sectarianism and separatism have been ending in Pakistan because it is harming the country's prosperity and development," said Amjad Khaskheli, a former JSMM worker from Dadu District who denounced the group's separatist politics.
Leaders of separatist groups in Sindh used youth for decades, while they themselves were enjoying a lavish life abroad, said Khaskheli.
JSMM chief Burfat himself lives in Europe in self-exile, he noted.
Sindhi ethnic groups have been rapidly losing ground because youth have realised that the separatist leaders pushed them into a petty war against the state, said Zareen Malah, a peace activist in Sukkur.
"We are glad that youth in Sindh Province are now rejecting terrorism," Malah said.
The self-realisation of youth reflects the success of state efforts to ensure lasting peace and crack down on militant groups, he said.
ISIS-K, dacoits also weakened
The latest move comes as law enforcement agencies have shattered the networks of religious militant groups, particularly the Khorasan branch of the "Islamic State of Iraq and Syria," known as ISIS-K, and the dacoit groups in rural Sindh.
In February 2019, law enforcement agencies shattered the ISIS-K network in rural Sindh by killing two of its leaders -- Abdullah Brohi and Abdul Hafeez Pindrani.
The pair, who were from Shikarpur District, were the chief and deputy chief of ISIS in Sindh Province, respectively.
In September 2019, Sindh Police launched a full-fledged operation against the dacoits after losing several senior officers in shootouts in Shikarpur. Police have arrested and killed a number of dacoit commanders since then.
Dacoits -- bandits who have operated in rural Sindh throughout its history -- tend to be based along a deeply forested stretch of the Indus River locally called the Katcha area in the remote districts of Shikarpur, Jacobabad and Kashmore.