QUETTA -- Security forces Sunday (May 10) arrested 19 suspected members of various militant groups, two days after an improvised explosive device (IED) blast in Kech District, Balochistan, officials said.
An intelligence-based "search operation was conducted following the May 8 IED attack in which six security personnel ... were killed in the Buleda area of Kech District", said Ahsan Aziz, a senior security official in Quetta.
The Balochistan Liberation Army (BLA), a banned militant organisation, claimed responsibility.
"The Frontier Corps South troops were targeted when they were moving back after routine patrolling at the Pak-Iran border," said Aziz.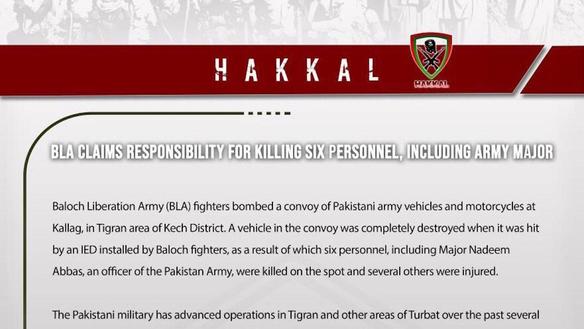 One officer and five soldiers were killed, the military said in a statement.
Security personnel were checking possible routes used by terrorists in the mountainous terrain of Makran Division, the most restive part of Balochistan, he said.
"The security forces' search and strike operation will continue in those parts of the province where militants have safe heavens," he said.
"In the on-going intelligence-based operation, so far 19 suspected members of two banned militant groups have been arrested," Aziz said. "Heavy weapons, communications devices and other banned items were recovered from the militants' hideouts."
Militants suffer 'major blow'
"This is a new wave of terrorism in Balochistan, and anti-state elements want to fulfil their nefarious intentions by attacking the security forces," said Muhammad Waqar, a senior security official in Gwadar.
"There are several mountain routes near the Pak-Iran border through which terrorists can easily escape to Iran," he said, adding that the attack may have been in retaliation for security forces' identification and patrolling of the militants' secret routes.
"We look forward to significant progress in the coming days," he said. "The forces so far have had great success in the operations currently being carried out in these troubled areas."
The border between Pakistan and Iran in Makran Division is a hub for criminal groups and Baloch militants, Waqar said, adding that they suffered a major blow as a result of Pakistani security forces' operations.
"Significant progress has been made during the security forces' operations, as now locals are widely co-operating with the security forces in counter-terrorism operations," he said.
"The blood of our security personnel will never be spilled in vain. Some elements are trying to sabotage the lasting peace in the province. We will defeat their nefarious plans," Balochistan Governor Amanullah Khan Yasinzai said in a statement on May 8.
"We share the grief of the families of the personnel killed, and I assure you that the assailants of the attack will be arrested and brought to justice soon," he said.
Authorities tightened security in Balochistan and deployed additional security personnel to all sensitive areas of the province.
Balochistan Chief Minister Jam Kamal has directed the Interior Ministry to arrest the perpetrators as soon as possible.