KARACHI -- Pakistani authorities are continuing work against organised crime and terror financing even as they deal with the coronavirus pandemic.
The spread of the virus poses a challenge to Pakistani authorities combatting terror financing, online crime and street crimes, according to recent reports from the National Initiative against Organised Crime (NIOC), an Islamabad-based independent platform formed by law enforcement, academia, civil society and media professionals to combat organised crime in Pakistan.
Officials have been taking timely measures to counter new challenges and have made some achievements, the body observed in reports April 10 and 17.
While the coronavirus pandemic has complicated these challenges, it can also bring to the fore new solutions, said Muhammad Amir Rana, an NIOC official.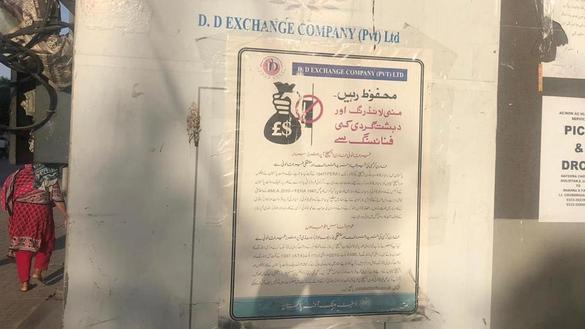 Pakistan must show institutional vigilance to monitor the changing trends for better understanding and preparedness for future challenges, he said.
The Federal Investigation Agency and financial institutions, including banks, have launched campaigns on social media and are sending alerts about fraud, which has been increasing during the pandemic, according to the NIOC.
"COVID-19 has increased the traffic on cyberspaces many-fold. This trend has also increased the vulnerabilities of cyberspace, where cyber-criminals are reportedly inventing new methods to engage in fraudulent acts," said Rana.
The Pakistan Telecommunication Authority (PTA), a government body, has also warned of possible cyber attacks under the guise of messages containing coronavirus information and advised Pakistanis not to use WiFi in public places.
Terror financing
Meanwhile, Pakistan is continuing a number of measures to satisfy the requirements of the Financial Action Task Force (FATF), a Paris-based anti-money laundering organisation, and to educate the public about money laundering, terror financing and other illicit activities.
The FATF, which placed Pakistan on its grey list in June 2018, in April extended a deadline for Pakistan to meet its requirements from June 2020 to September 2020.
An FATF advisory on April 1 also particularly warns about the threat of increasing cyber-crimes including fundraising for fake charities and various medical scams targeting innocent victims.
Proscribed militant outfits will probably try to take advantage of the coronavirus crisis under the guise of charities, said a senior law enforcement official in Karachi.
"But it has now become difficult for the proscribed militant group and their linked charities to collect donations," said the official on the condition of anonymity.
"Authorities have been working to ensure that charity donations given during Ramadan go to genuine welfare organisations and not into the pockets of militant groups," he said.
Street crimes
Law enforcement personnel are working to counter an increase in street crimes, especially in Karachi and Islamabad.
After an increase in complaints about street crimes in Islamabad, police have chalked out a night patrolling plan covering all sectors of the city, according to the NIOC.
The capital police have deployed additional officers and vehicles of the Falcon Squad, a special force formed for street crime, to ensure the implementation of the plan.
Officers have arrested dozens of persons over the past week.
Similarly in Karachi, police authorities are responding rapidly to all alerts and information pertaining to street crimes on their helpline 15.
Various wings of police department are working around the clock, said Karachi Police Chief Ghulam Nabi Memon.
"Citizens should co-operate with the police in order to curb street crime and promptly alert authorities of such incidents," he said.