PESHAWAR -- Pakistan has restarted its 10 Billion Tree Tsunami (10BTT) project, also known as Plant4Pakistan, as a means to employ those who have lost their jobs during the coronavirus pandemic.
The forestation project, launched in September 2018, is aimed at planting 10 billion trees over five years.
The effort was briefly halted in March because of coronavirus concerns before restarting this month.
"Pakistan innovates in the time of COVID-19. With daily wagers out of jobs, the government is employing a number of them as part of the massive 10 Billion Tree Campaign -- impacting lives and the planet positively at the same time. Every initiative counts," Prime Minister Imran Khan said on Twitter April 11.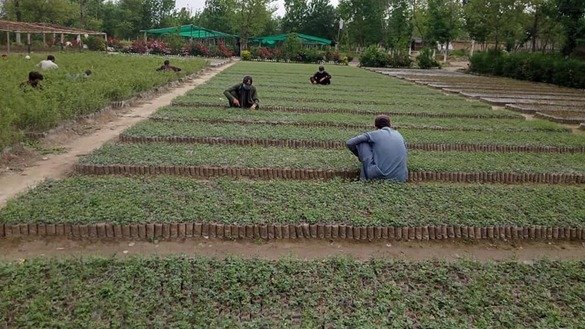 "We have been hiring workers since April 12, and so far over 500,000 have been recruited and deployed in different districts and areas," Malik Amin Aslam, adviser on climate change to the prime minister, said April 20.
"The incent­ive is meant to keep busine­sses afloat and help the out-of-job daily wagers," he said.
"It will help to improve the economic status of youths, who are working in a clean and neat environment," Aslam said.
The project "has enabled daily workers to earn money when the country has imposed a complete lockdown to prevent the pandemic of COVID-19, and it's also keeping the youth from falling into the hands of the militants, who are notorious for using the jobless for acts of terrorism", said Mushtaq Khan, a 22-year-old resident of Bajaur District.
Khan previously worked at a local hotel that has since closed becausee of the pandemic.
The tree-planting project has been a blessing for him, he said. "We earn Rs. 1,000 ($7) or more per day through the plantation of trees in our own locality."
Safe, productive work
"In these hard days of lockdown due to the COVID-19 outbreak, we have engaged poor daily wagers to work remotely, following all safety measures and protocols, said Siddique Khan, an officer of the Khyber Pakhtunkhwa (KP) Forestry Department.
"On a daily basis, more than 20,000 labourers work in various forest nurseries and plantations under 10BTT," he added.
The activities have been started throughout the province, Khan said.
All districts, including the former tribal areas, are part of the programme, which is attracting youth in droves and helping the government to materialise its plan of a green Pakistan, he said.
"We are committed to converting this misfortune into an opportunity by providing green jobs to unemployed labourers at their doorstep while achieving our targets," he said.
Yasmin Bibi, 28, who works at a local nursery in Mansehra under the KP Forestry Department, says she is happy because she is earning a sizeable amount from the project.
"I have been working from the past few days in a fresh environment. More than 100 women have been employed, and we want to continue this work even when the COVID-19 crisis is over," she said.
Mushtari Begum, who works at a local nursery in Swat District, said that she and other women plant trees and irrigate them in the morning.
"Since I first started working in the nursery, more than a dozen women have [joined]," she said.
"We remember that it was difficult for women to venture out in public when Taliban militants illegally ruled Swat a decade ago," she noted.
"They are working in forests and nurseries, where they follow social distancing rules to prevent the spread of COVID-19, and stay engaged in useful activities instead of turning to crime," said Tariq Khan, a farmer in Mardan.
It was because of poverty and joblessness that Taliban militants were able to recruit civilians and deploy them for anti-state and terrorist activities, according to Khan.
The lockdown has deprived Pakistanis of their jobs, especially the daily wagers, who could become militants -- but the government's effort to engage them in work is laudable, he said.