PESHAWAR -- Pakistani police will enforce social-distancing measures during the upcoming holy month of Ramadan even as the country eases anti-coronavirus lockdown restrictions to allow worshippers to gather in mosques, authorities say.
With Ramadan set to begin on Friday (April 24), "patrolling will be increased before iftar and during prayers," said Khyber Pakhtunkhwa (KP) Senior Superintendent of Police (SSP) Operations Zahoor Babar Afridi. Officials have held meetings with religious scholars to ensure social distancing during prayers to prevent the spread of COVID-19, he said.
Pakistan had 9,749 confirmed cases of the coronavirus with 209 deaths as of Wednesday (April 22), according to the government.
Officials have closed malls, restaurants and public places in parts of Pakistan as part of efforts to prevent the spread of COVID-19.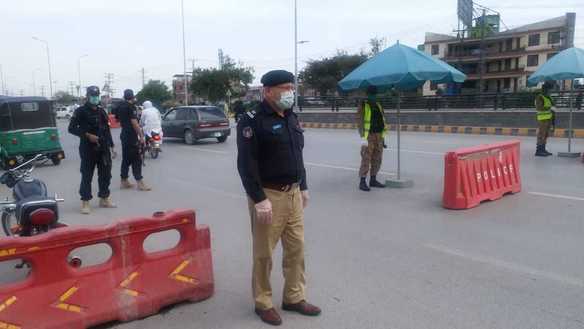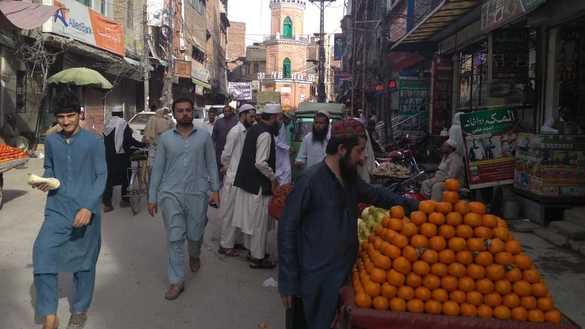 Authorities will permit taraweeh and other prayers in mosques if they enforce precautionary measures, said President Arif Alvi during a recent meeting with top religious scholars.
"The mosques will be disinfected, while there will be six feet of distance between worshippers to prevent the spread of the coronavirus," Alvi said, adding that worshippers should avoid shaking hands and gathering in large numbers before and after prayers.
He urged religious scholars to educate worshippers and the rest of the public about the ability of large gatherings to spread the disease.
Jamil ur Rehman, a resident of Peshawar, can see authorities taking precautions ahead of Ramadan.
"We have chlorinated mosques, and our prayer leader has asked worshippers to offer prayers while keeping a safe distance during Ramadan and other days," Rehman said.
Worshippers with symptoms such as coughing or a fever have been asked to stay home, he added.
"Congregants have been asked not to gather in large numbers and to ensure social distancing to prevent the spread of the virus," said Rehman.
Heightened security
Inspector General of Police (IGP) KP Sanaullah Abbasi, in a video conference with regional police officers on April 14, directed law enforcement officers to increase security ahead of Ramadan.
He emphasised enforcing social distancing during the lockdown as well as ensuring law and order during the holy month.
"For their duties during Ramadan and other days, special protective gear and equipment have been prepared for all the policemen to remain safe from the coronavirus," said Abbasi.
Police have upgraded security in Sindh, Balochistan and Punjab too.
"The Sindh government had decided not to hold the Ramadan bazaars because of the coronavirus situation," Sindh Agriculture Minister Ismail Rahoo said on April 17, adding that fruits and vegetables will be available in local shops and that shoppers can order them online.
Punjab, Balochistan and KP are not allowing Ramadan bazaars either.
In addition, large contingents of officers will guard entry and exit points of public areas including mosques, as well as sensitive points of the cities in all provinces and of Islamabad.
"We have set up 44 checkpoints in different parts of the city, while patrolling parties have been set up along with the Frontier Constabulary and the army," said Afridi, the KP SSP.
The deployment of additional police will help ensure law and order during Ramadan, he said.
Emergency cash assistance
Police in Peshawar already have deployed more than 3,000 personnel in different parts of the city to ensure the lockdown.
In addition, the Pakistani government is distributing a total of Rs. 144 billion ($881 million) to families impacted by the lockdown ahead of Ramadan.
"The Ehsaas Emergency Cash programme payments have been under way since April 9, providing assistance of Rs. 12,000 [$73] per family to 12 million families in need," said Sania Nishtar, director of the programme.
About Rs. 53 billion [$320 million] has been paid out under the initiative to cover 4 million families through April 19," said Nishtar, adding that the disbursement of cash is continuing and that the majority of the targeted recipients are likely to obtain the support before Ramadan.
Families who were worried about making arrangements for Ramadan after losing jobs or having their businesses close because of the lockdown expressed their gratitude for the financial support.
"We can afford food and other needs for Ramadan and did it with the Rs. 12,000 from the government," said Shahida Begum, a resident of Kohat.