PESHAWAR -- More than 7,000 athletes from across Khyber Pakhtunkhwa (KP) are participating in the Under-21 Games that began in Peshawar on Monday (March 9).
More sporting activities are taking place in KP and throughout Pakistan with the return of peace to the country following years of violence and terrorism.
International sports federations blacklisted the country for years after a deadly terrorist attack in 2009 in Lahore on the Sri Lankan cricket team. No foreign cricket team played in Pakistan again until Kenya's squad visited in 2014.
Prime Minister Imran Khan opened the games during a ceremony at the Qayyum Sports Complex in Peshawar on Monday. KP Governor Shah Farman, Chief Minister Mahmood Khan and a number of dignitaries also were in attendance.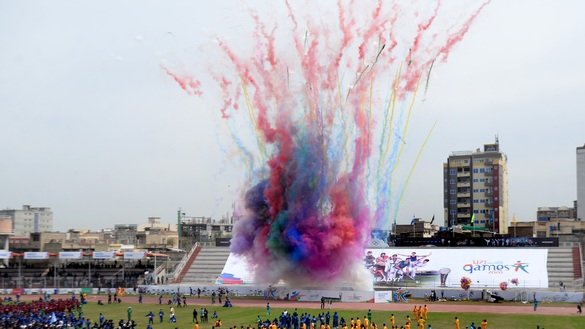 The games began amid fireworks and a march by the respective athletes.
"The Under-21 Games are being held at the tehsil, district and divisional levels in three [consecutive] phases," said Riffat Ullah, a sports reporter from Peshawar.
Currently, the second phase (district competition) is taking place, with 7,000 players participating in 13 games, he said.
"Overall 26,000 players are participating in the three phases of the Under-21 Games in 32 different games for men and 27 for women," said Ullah.
Most of the games are being held at the Qayyum Sports Complex, while some male and female events are occurring at the Hayatabad Sports Complex.
Protecting the event
Police have been deployed around the facilities to ensure security.
"Over 2,000 policemen have been deployed for the security of the games to ensure the peaceful holding of the event," Capital City Police Officer (CCPO) Mohammad Ali Gandapur said.
Gandapur and other officials visited Qayyum and nearby areas Monday to inspect the security arrangements for the event.
"The province is now turning from terrorism to tourism and sports," Ajmal Wazir, a spokesman for the KP government, said at the stadium.
The hosting of sports activities in the province is a sign that peace has returned to the province, he said, adding that KP could host matches of the Pakistan Super League next season.
Last November, Peshawar hosted Pakistan's 33rd National Games, the first time the event occurred there since 2010.