PESHAWAR -- Khyber Pakhtunhkwa (KP) Police are now taking calls and receiving complaints from the public through live and online open courts on social media to accelerate the resolution of citizens' issues.
The effort bolsters rapidity of communication between police and civilians in the province worst hit by terrorism during Pakistan's long struggle with militancy.
In a grim reminder of the continuing reach of terrorists, gunmen Tuesday (February 25) killed journalist Javedullah Khan in Swat District. During the worst years of militancy, Khan lost many relatives who had fought Tehreek-e-Taliban Pakistan (TTP) as members of tribal anti-TTP forces (lashkars).
Security measures against insurgents and the consequences of extremism are still highly visible in KP.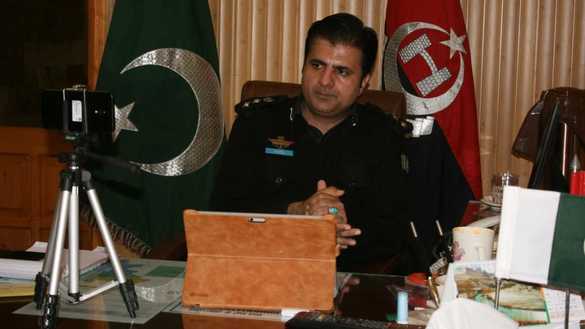 Therefore, such initiatives not only restore public confidence in government but discourage crime and militancy in society, officials said.
"We held meetings with the concerned regional police officers and district police officers through a video link to review the security arrangements for the polio vaccination drive as well as overall law and order," said KP Inspector General of Police (IGP) Sanaullah Abbasi, referring to a February 17-20 nationwide campaign against the crippling disease.
Pakistan is one of only three countries, including Afghanistan and Nigeria, where polio is endemic. Police in Pakistan still have to accompany polio vaccinators to protect them against violence from insurgents and from sympathisers who buy the insurgents' spurious claims about the dangers of polio vaccine.
In a recent instance, unidentified gunmen shot and killed two female polio vaccinators in Swabi District January 29, making clear the continuing peril to medics simply trying to protect public health in KP and the rest of Pakistan.
Another community aware of the costs of extremism is the large diaspora of Afghan refugees. They number an estimated 2.7 million throughout Pakistan, many in KP.
For this vulnerable population, too, the new system is bringing benefits.
It is winning praise from the public on social media and other forums because it has made things easier for Afghan refugees, added Peshawar-based journalist Qaiser Khan.
Reaching to to the public
District police officers (DPOs) in parts of KP are holding the open courts, known as kuli katchehri, and a large number of residents have made calls or conveyed their issues via messages, officials said.
"We are holding online open courts through social media every week to listen to the problems of the public and immediately issue necessary orders," DPO Abbottabad Javed Iqbal said. About 40,000 users were online in the first court held on February 11 from 2pm to 4pm, he said.
"As many as 62 residents called either to register a complaint, provide information or express their appreciation to the local police for doing something well, such as maintaining law and order," said Iqbal.
Those who have made calls during the live court include members of all walks of life, including women, elderly citizens and Pakistanis living and working abroad, he said.
The police will be holding the social media court weekly to learn more about citizens' issues and address them in a timely manner.
"This not only saves time for officers but also for the public who can call or send messages from their house, office, shop or anywhere," Iqbal said.
'Warmly welcomed by the public'
Senior police officers have started holding important law and order meetings through a video link so that other officers living in remote areas are not obligated to come to Peshawar for each session.
Abbasi the IGP said he has held several meetings via video link with officers of remote districts in Malakand, Hazara, Bannu, Dera Ismail Khan and the Kohat range.
"The open courts by the concerned DPOs through social media have been warmly welcomed by the public," said Mardan DPO Sajjad Khan. He emphasised that the online open courts save time for those who cannot visit the office of a senior official.
"It's not easy for residents to take leave from their office or shut their shops and other businesses," he said. "They now contact any senior police officer every week through the online court."
Deputy commissioners of various districts already had started holding online courts in different parts of KP. Other provinces have introduced the system to receive citizens' issues online and officers address them on the spot.
"Since everything has gone digital, it was the need of the hour to provide an online platform to the public to register their complaints, share information or contact the officials for other purposes online from anywhere," said Qaisar Khan the journalist.
"Since modern technology is now being used in every field, civilians are happy that they can now access the top police and administrative bosses from anywhere to highlight the issues being faced by them or their areas," said Khan.