PESHAWAR -- The government is boosting the number of university admissions in fields such as medicine and engineering for students of the merged tribal districts, a move aimed at helping steer youth from militancy and lift the development of an area hurt by decades of terrorism.
The government doubled the quota for medical students from tribal areas last December from 175 to 350, while engineering admissions grew from 108 to 216 and that for other disciplines increased from 1,719 to 3,192 at colleges and universities across the country, according to Federal Education Minister Shafqat Mahmood.
"The increase has been made in the light of a decision of the cabinet in March 2017," he said. "We need to strengthen youth by giving them more opportunities for education to keep them away from militancy."
"It is very encouraging for students because it will open the doors for the poor to become doctors and engineers," said Muhammad Aslam, a first-year student at Mir Ali Government Degree College in North Waziristan.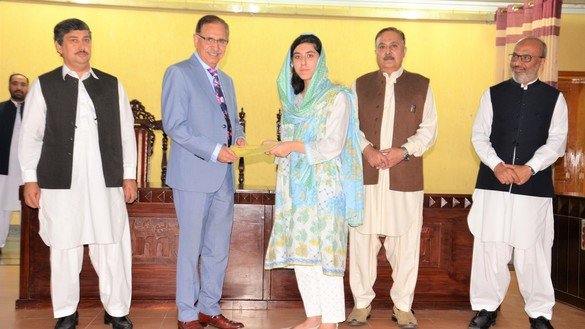 Militants in the past have recruited hundreds of youths in tribal areas whom they brainwashed into becoming suicide bombers, he said, adding that lack of opportunities for education made those youths vulnerable.
Now, it is a blessing that the government has increased the admission quota for natives of the erstwhile Federally Administered Tribal Areas (FATA), Aslam said.
"This will create an atmosphere of competition among the students, and an educational environment will be created in which militancy will find no place," he said.
The quota move is part of the government's strategy to develop terrorism-hit areas and their population, said Fazal Muqeem, an official at the directorate of health for merged tribal districts.
"It is a praiseworthy move because it will enable the students to get an education; [they] have been demanding additional admission for a long time," he said.
It is a setback for those who try to spread fear through terrorism to keep the public illiterate, he added.
The federal government announced after FATA's merger with Khyber Pakhtunkhwa in January 2018 an investment of Rs. 100 billion ($645 million) to upgrade health and education facilities over 10 years.
Each of the seven merged districts now has 50 seats in medical and dental colleges, said Prof. Arshad Javaid, vice chancellor of Khyber Medical University.
"We need more doctors to be deployed in areas hit by insurgency in the past. Terrorism has harmed the public, especially youngsters," he said.
Medical colleges have been admitting students from the seven tribal districts under a quota system since the 1960s to give more students a chance to continue their education.
Militants target schools
The move is timely and correct because education and health services have suffered from the violent campaigns of terrorists, said University of Peshawar political scientist Kalimullah Khan.
Militants have targeted schools and hospitals to deprive the public of education and medical treatment, he said.
"Only the promotion of education can defeat militancy, and such measures will bear fruit and peace will be ultimately established," Khan said.
Kashmala Bibi, a 17-year-old who received admission to the Pakistan Institute of Fashion and Design (PIFD) in Lahore last November through the quota system, is excited about her opportunities.
"I wouldn't have gained admission had the quota not been increased," she said.
The quota has been increased to 14 from 7 at PIFD, which enabled her to enroll. She added that her cousin was admitted to the National Textile University in Faisalabad, where the quota rose from 9 to 18.
Saif ul Islam, an education specialist based in Peshawar, praised the government's decision.
"The doubling of seats at educational institutions is a welcome development at a time when militants have been defeated by military operations and as Pakistanis need more opportunities for professional education," he said.
End of terrorists' foothold
Residents of militancy-stricken areas commend the the army for ridding the area of terrorists and paving way for them to better themselves, Islam added.
To end terrorism permanently, education needs to be provided to the youth so they can help pave the way for ultimate peace, he said.
Tribal residents are fed up with militancy and with their long inability to obtain an education, he continued.
Now, youths want to gain knowledge and play their part in developing their native areas, Islam said.
Terrorists have no chance to mount a comeback in the tribal areas now, said KP government spokesman Ajmal Wazir.
"We have started building new schools, colleges, hospitals and vocational institutions ... We know the importance of tribal districts and want to develop them so the terrorists don't find a foothold in the future," he said.