PESHAWAR -- Just a few years ago, it was unimaginable that sporting activities could take place in Swat Valley, including at the snow-clad Malam Jabba ski resort.
However, now that security forces have killed or expelled most of the country's terrorists, tourists and skiers are flocking to the area.
On February 3, 36 international skiers, including British High Commissioner to Pakistan Dr. Christian Turner, were among those taking part in the Malam Jabba International Alpine Ski Cup, the 27th National Ski Championship and the 4th Chief of Air Staff (CAS) Karakoram International Alpine Ski Cup.
"In a valley and resort associated with destruction by the Taliban militants, it is fantastic to see the breathtaking scenery and how Pakistan is changing for the better," Turner said in an Urdu-language video on Twitter.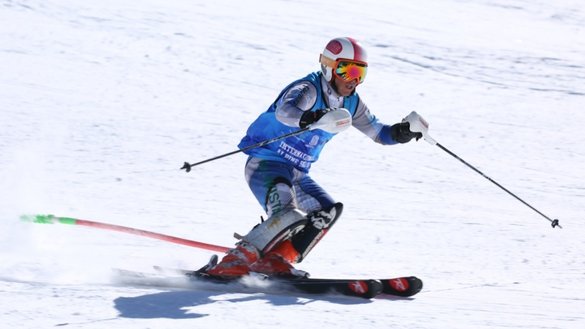 Turner congratulated the Pakistan Air Force (PAF) and the Winter Sports Federation of Pakistan (WSFP) for organising the tournament.
"I have been told I am the first British High Commissioner to visit the resort in 15 years or so, and I want to continue travelling all around Pakistan so I get to know this wonderful country," he said, as quoted by the Express Tribune.
President Arif Alvi during a ceremony on February 9 distributed prizes among the winners of the three different tournaments.
Alvi thanked the PAF and WSFP for promoting winter sports in the country and congratulated all the stakeholders for successfully holding the event.
The presence of foreign teams in Swat sends a very clear message to the world that Pakistan is on the path of progress and peace, he said.
Air Marshal Ahmer Shehzad, vice chief of Air Staff and president of the WSFP, was present at the ceremony, according to a PAF press release.
The PAF is fully committed not only to promoting skiing in Pakistan but also to training skiers to take part in international winter sports events, said Air Vice Marshal Moeed Khan, Air Officer Commanding Northern Air Command, at the ceremony.
"It was indeed a landmark event as 36 international skiers from nine countries including Afghanistan, Azerbaijan, Canada, Greece, Tajikistan, [East] Timor, Turkey, Ukraine and United Kingdom participated," the press release said.
The event will not only boost the tourism industry in the mountains of Pakistan but also help in projecting a positive image of the country all over the world, it said.
Pakistani hospitality
"It was a wonderful experience coming here ... and it is really encouraging for sports in Pakistan," said Georgios Kaleridis, a skier from Greece.
"This mega show may attract others to come to enjoy the traditional hospitality of Pakistanis," he said.
"I really enjoyed the event in Pakistan; it's so beautiful and calm... it's a peaceful valley, and I am happy to see life back to normal," said Sahiba Kushim, a Pakistani skier who won gold in the women's category.
The participation of foreigners "is a message to the world -- peace is restored so come and enjoy real peace here", she added.
"The overall environment here is so peaceful and good; I really enjoyed competing here. It is so natural," said Umama Wali, another female skier from Pakistan.
"The slope here is of international standards and well maintained; it will attract more foreign [skiers]. We really enjoyed the event," said Wali.
The attendance of Alvi, Turner and the other international skiers sends a clear message that peace has returned, according to Fazal Hakim Khan, Swat District development advisory committee chairman and Pakistan Tehreek-e-Insaf Malakand Division president.
Prime Minister Imran Khan is keen on reviving tourism in the valley, and such events promote tourism, particularly winter sports, in Pakistan, he said.