PESHAWAR -- Students in the southern villages of Peshawar are continuing their studies in defiance of militants, who over the past years bombed several schools across Khyber Pakhtunkhwa (KP).
In Mashokhel, terrorists twice bombed the Government High School for Boys in January 2013. The second attack flattened the school.
Many classrooms and the veranda of the school caved in after the blasts, while the boundary wall and other parts developed cracks.
However, the damage failed to stop the students, who have attended school in the open, in tents or in strangers' hujras.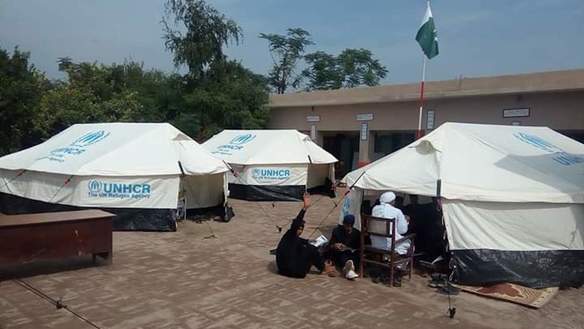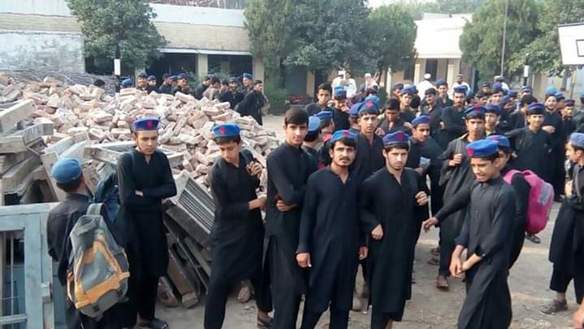 "Despite threats and difficult circumstances, hundreds of students continued their studies after the school was shifted to a nearby building," said Adil Khan, a former student from the area.
Studying in tents
Authorities supplied tents to the school to enable the students to continue their studies on hot summer days or during rain, he added.
"The school was bombed twice, but that could not frighten the students and the teachers who continued educational activities at nearby places," said Khan.
The KP government last year approved funds for a new building for the school after a social-media campaign by Zahid Ali, a teacher at the school.
"We have made alternate arrangements for the students of the bombed school until they get the new building," said Amjad Khan, the nazim of Mashokhel, adding that construction will be completed soon.
Basic human rights
"Education and health are the basic human rights that should be provided to every citizen at his or her nearest place," said Arbab Bilal, a local elder and philanthropist who has arranged funds for the repair of a local clinic ransacked by a mob in last April after false rumours that the polio vaccine sickened children.
He urged the reconstruction of all the schools destroyed in the past few years, noting that students are still taking classes in nearby private or public sector schools, hujras or other places.
"Dozens, if not hundreds, of schools were bombed by terrorists in Peshawar, Malakand, the newly merged districts and other towns of the province during the last decade," said Riffat Ullah, a Peshawar-based journalist.
Despite the bombing and torching of schools, "thousands of students -- both girls and boys -- can complete [their studies] not only at schools but also at colleges and universities," he said.