KARACHI -- The recent arrest of a key Tehreek-e-Taliban Pakistan (TTP) leader in Karachi reflects continued joint efforts by provincial law enforcement agencies to squash the terror outfit, security officials say.
Sindh Rangers arrested two militants belonging to the TTP's Swat chapter in raids in Karachi's District West on January 15.
"The arrested militants -- Rashid alias Khan Baba and Ismail alias Chips Wala -- were wanted by Swat police in Khyber Pakhtunkhwa (KP) for their involvement in terror activities in the valley," said a spokesman for the paramilitary force.
The Sindh Police's Counter Terrorism Department (CTD) on December 18 also arrested Rehmat Ali, a key TTP commander in Buner District, KP, in the Old Sabzi Mandi neighbourhood of Karachi.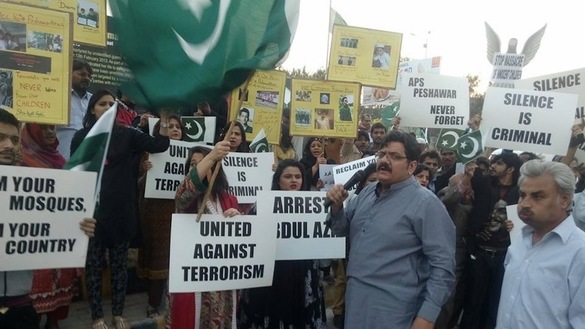 "Ali, along with other TTP militants, attacked and captured a checkpost being manned by personnel of the paramilitary Frontier Constabulary in April 2009 in Buner District, which remained under their control for one month," said Malik Altaf, a senior CTD official.
The KP government had a bounty of Rs. 2 million ($12,930) on Ali's head.
The checkpost was vacated after the military operation against the TTP started in Malakand Division. However, Ali, like many TTP leaders, escaped to Afghanistan to avoid arrest, according to Altaf.
Law enforcement agencies in September last year launched a crackdown against the terror outfit in Buner District, KP.
That came after reports of a resurgence of the TTP in August when Sardar Hussain Babak, a parliamentarian from the Awami National Party, publicised threatening letters purportedly sent by the militants.
The same month, the KP Police CTD arrested in Mansehra District Azeem Jan alias Qari Khaksar, a TTP key commander who was involved in the 2002 kidnapping and killing of Wall Street Journal reporter Daniel Pearl in Karachi as well as other terror activities.
"Jan was an active member of the TTP in Shangla District ... he moved to Karachi where he was a key leader of the terror outfit," according to a CTD press release.
Network shattered
Since its formation more than a decade ago, the TTP has been crumbling due to sustained military operations, the killing and capture of its high-ranking leaders and internal fissures.
The TTP has served as an umbrella outfit for various militant groups since its formation on December 14, 2007.
Initially the group was concentrated in parts of KP and the erstwhile Federally Administered Tribal Areas (FATA), but in later years the group expanded its influence to the rest of the country.
The TTP emerged as a key actor of terrorism and militancy and was involved in a number of terror attacks targeting civilians, including schoolchildren, worshippers, anti-polio medics and law enforcement personnel.
However, military operations that were carried out in various areas of the country weakened the terror outfit to a great extent, shattering the Taliban's control-and-command system and affecting its activities.
In 2019, the TTP still remained a major actor of instability and was found to be involved in 82 terrorist attacks, according to an annual report published by the Pak Institute for Peace Studies (PIPS), an Islamabad-based think tank.
Among them, 69 were reported from KP and 13 from Balochistan.
Still, the TTP has also suffered losses as large numbers of its leaders and members were killed and arrested in 2019, the report noted.