PESHAWAR -- An initiative organised by the United Nations Educational, Scientific and Cultural Organisation (UNESCO) is bringing religious seminaries and government-run schools in Pakistan together to encourage tolerance, peace and acceptance.
The "Learning for Empathy" programme aims to bring students of madrassas and government-run schools together to bridge communication gaps and build a path for a more progressive country through education, Sadia Bangash, a UNESCO project officer, said in an interview on January 10.
"For the promotion of peace and harmony among youth, UNESCO Islamabad is implementing a Japan-funded project to promote education... which stresses upon the need for a value-based education system," she said.
UNESCO Pakistan is striving to cultivate knowledge of peace, harmony and positive behaviour among students and teachers so that they can promote a more harmonious and tolerant society, Bangash added.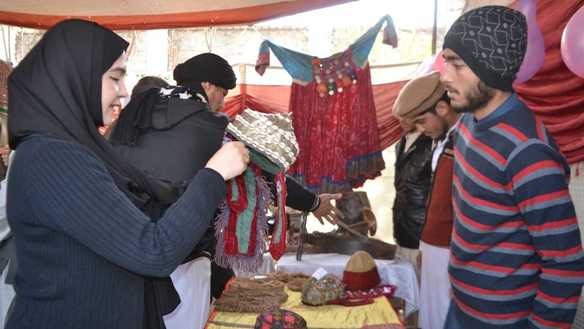 As part of the initiative, the madrassa Darul uloom Jamia Usmania Peshawar on December 10 hosted an art and culture festival on its premises in collaboration with UNESCO.
Students from Jamia Usmania, Government High School Kafoor Dheri and Government High School Sufaid Sang attended the event.
Together they played cricket, enjoyed chapali kabobs, tikka karahi, kabuli pulao and other traditional cuisines along with watching plays and poetry readings.
Many students were ecstatic because religious schools in the past have not welcomed such activities.
"For us, peace is the only solution to the problems prevailing in society," said Muhammad Idress Bakhtiar, a first-year student at Jamia Usmania Gulshan Umar Campus.
"We are undergoing UNESCO's three-month course, and we have realised that even if a single student can contribute in bringing peace and love in the area he [or she] is living in, he [or she] has achieved the goal," he said.
"We have learned through interaction that interfaith harmony, tolerance and love are the only way to bring peace to the society, and we are on it," Muhammad said, adding that "we have learned how to motivate others through love and harmony and give up extremism and stubbornness."
"Playing cricket with the Kafoor Dehri team was a unique experience for us... we should have more such events. It has helped us a lot to know more about each other and to bring madrassas and schools together," said Seyam Ullah, a student of Jamia Usmania Peshawar.
"The plays and poetry at the festival have increased my confidence," he added. "I loved the time spent there. "It is different from madrassa life."
"We should have more sports and cultural events between madrassas and schools to shun intolerance and extremist tendencies for a peaceful Pakistan," Ullah said.
Agents of peace
UNESCO's initative will enable students and teachers to become agents of change for peace, said Ziaullah Bangash, the adviser for education to the Khyber Pakhtunkhwa (KP) chief minister.
"War and militancy have cost us a lot," he said. "Ulema and teachers can play a vital role in character building of students in educational institutions and in madrassas to achieve lasting peace and tranquility through the elimination of extremism, sectarianism and terrorism from society, as peace is the only way to progress and development."
Such art and cultural festivals are unique for madrassas and will prove a great method to change mindsets and encourage students to shun violence and extremist tendencies, said Mahmood Jan, the deputy speaker of the KP Assembly.
The government, madrassas and the education department have united on the UNESCO platform, and the KP government is undertaking all efforts, including institutional reforms, to establish peace and harmony, he said.
The cultural festival and the cricket match were excellent examples of the integration of madrassa students with students of the formal education system, said Mufti Ghulam of Jamia Usmania.
It also demonstrates the social harmony and peaceful co-existence among the youth, he added.
The initiative will go a long way in achieving interfaith harmony, tolerance and peace in Pakistan in the days to come, he said, adding, "Our efforts for peaceful and harmonious society will go on unabated."