PESHAWAR -- Sitting in small shops of the interior of Peshawar city, artisans can be seen busy thumping stretched-out goatskins with their palms for hand drums and twisting strings for rababs.
Pedestrians can easily detect the presence of such shops by listening for the tunes of traditional musical instruments.
Such vendors have survived a decade-long period of militancy, when militants would target music-centred venues like CD stores and theatres.
More recently, they are continuing to stand strong against a new threat -- increasingly popular pop DJs.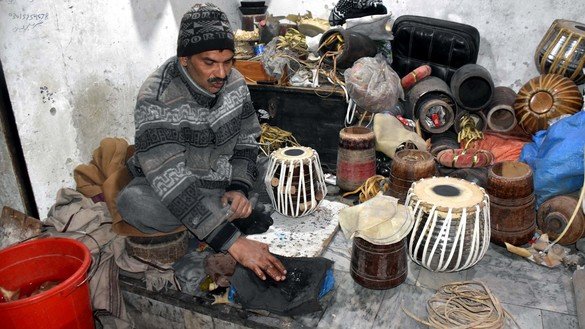 "Our family has been making hand drums and rababs over the past century because we inherited this art from our forefathers," said Ahmad Ali, an artisan.
His father inherited his skills from his own father, marking more than 100 years in the family of making hand drums, he said.
Only three shops in Peshawar have owners who prepare and repair musical instruments -- especially hand drums, Ali said, adding that all three shop owners are blood relatives of each other.
"In all of Khyber Pakhtunkhwa [KP] and even in neighbouring Afghanistan, no professional artisan of hand-drum makers can be found except from these few shops in Peshawar," he said.
The artisans are still reeling from the impact of militancy that gripped KP from 2007 to 2016, he said.
"We had to reduce our work time or skip working days, which badly impacted our income... fear of attacks by militants always hounded our minds during that time," Ali recalled.
"We continued our work during those days but not regularly, because of fear of attack by extremists whose first target were people associated with music," said Rahim Mujtaba, the elder brother of Ahmad Ali. Mujtaba has been associated with the profession for the last 45 years.
Although classical music is no longer in vogue, "we have decided to continue the skill that we inherited from our forefathers," Mujtaba said.
"The long association with the art has made it our passion, and threats from extremists or an economic slump cannot force us to pick another livelihood," he said.
Zartaj Khan, a hand drum performer, said he appreciates the family for providing its services to music lovers.
"Otherwise, it was very difficult to find new items or get faulty gadgets repaired," said Khan, a resident of Charsadda District who came to Peshawar to have his instruments repaired because of the unavailability of such craftspeople in his hometown.
He urged the government to acknowledge the services rendered by artisans in preserving the art of hand drums and to provide a monthly stipend for them.