PESHAWAR -- Educated youth from all over Pakistan, especially in the tribal areas, are looking forward to benefiting from the prime minister's new employment initiative.
The Youth Entrepreneurship Scheme, which falls under Prime Minister Imran Khan's Kamyab Jawan (Successful Youth) Programme, was launched December 5.
Under the scheme, applicants can submit business plans online to receive various loans from the government to support their startups and small businesses as well as existing enterprises.
"I am going to set up an embroidery outlet in my village to provide training to women and enable them to earn livelihoods in a respectable way," said Sheema Bibi, 24, from Parachinar District.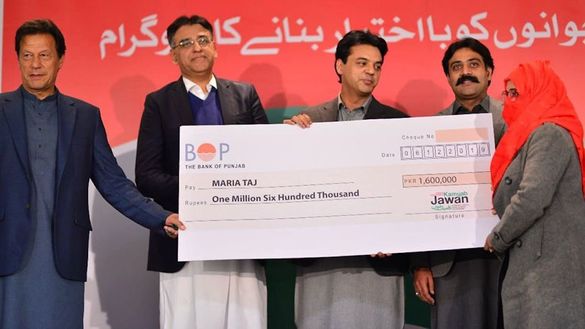 Bibi, who received a Rs. 3.5 million ($22,588) interest-free loan from the programme, said she would use the funds to empower women in the once militancy-stricken area.
"There are dozens of women and girls who have lost their husbands or parents in terrorism-related incidents. Therefore, the programme is a blessing that will help them in these trying times," Bibi said.
"Very soon, I will start an embroidery shop because the money has been transferred to my account," she said, adding that the programme is a great initiative to thwart militants' attempts to keep women from working.
Muhammad Rafiq from Swat is also jubilant over receiving the loan.
Rafiq, one of 90,000 applicants from Khyber Pakhtunkhwa, said that his father, a shopkeeper, was killed by the Taliban in 2008. He was unable to continue his education after his father's death.
"I have already received mobile-phone repair training, and now I will set up my own business here. The government has sanctioned my loan application, and Rs. 2 million ($12,907) has been transferred to my account," he said.
Under the business plan approved by the government, Rafiq seeks to establish a mobile repair workshop and store that will hire more than a dozen youth.
"The loan will be returned after eight years in instalments, and I hope it is a good opportunity for youth to become self-reliant," said Rafiq, 21.
Naseema Khan, 23, from Bajaur District, said she passed intermediate examinations in 2012 but could not pursue further education after her father was killed in a bombing in 2009. She began teaching at a private school instead.
"I heard about the loan scheme and made a proposal that was accepted. My plan is the establishment of a private school, for which I have received a Rs. 4 million ($25,814) loan," Khan said.
"I have started work to open a girls' school because they [girls] have suffered greatly from Taliban militants, who destroyed more than 100 schools, mostly for women," she said, referring to destruction in Bajaur from 2008 through 2012.
The school will not only provide jobs to female teachers but also enable girls to be enrolled in school for a nominal fee, Khan said, adding that girls desperately need education.
Avoiding radicalisation
The initiative seeks to engage young people in useful activities and make them good citizens, said Usman Dar, special assistant on Youth Affairs to Prime Minister Imran Khan.
"In the past, youths have joined militants in the former FATA [Federally Administered Tribal Areas] and Swat because they were jobless and vulnerable to being radicalised and used as suicide bombers," he said.
This programme will give youth the opportunity to set up their own businesses and achieve financial independence and stay away from militant groups, Dar said.
"It is very encouraging that the 1 million applicants, including 190,000 females, have shown interest in the programme. We have a 25% quota for females," Dar said. In the first phase, 50,000 youths have obtained loans, he added.
The programme will allocate Rs. 100 billion ($645 million) to youth in the next two years, said Dar. "Engaging youth plugs the militants' way to recruit unemployed youth for terror activities," he said.
Hundreds of ex-FATA youths are among those receiving the loan, which analysts say is a step forward to help the militancy-stricken region develop.
The programme is unique and useful because most of the loan recipients are selected based on their skills and education, said Amjad Ali of Peshawar, a local banker.
"We have examples that such small loans have proved instrumental in the development of countries. This will bring prosperity to the families as well as the country," he said.
The programme is in part aimed at financially assisting women to set up their own businesses, said Ayesha Bibi, a female member of the KP Assembly.
The federal government accords top priority to women's development, said Bibi, chairwoman of the Development Assistance Committee for Mohmand District in the KP Assembly.
"Small enterprises stimulate economic growth by providing employment opportunities, fostering innovation and reducing income inequalities," she said.
A lack of financing from formal sources is a key challenge faced by the small enterprises and youth entrepreneurs in the country, she said.
The government is cognisant of the situation and is fully committed to enabling youth to obtain affordable financing from banks for establishing a new business or strengthening their existing business, Bibi said.
The move seeks to give self-employment opportunities to unemployed youth, she said.