LAHORE -- Punjab Province has seen a 90% decrease in terror incidents due to a security crackdown over the past three years, said senior officials with the Punjab Police's Counter Terrorism Department (CTD).
The groups targeted included Tehreek-e-Taliban Pakistan (TTP), al-Qaeda, the "Islamic State of Iraq and Syria" (ISIS)'s regional branch -- also known as ISIS-K --and its affiliates Lashkar-e-Jhangvi (LeJ) and Hizbul Ahrar (HuA).
In Punjab, the country's most populous province, these militant outfits usually operate in the form of small sleeper cells.
"The process of eradicating terrorist outfits, especially their facilitators and financiers, has continued, and law enforcement bodies are conducting special monitoring of such groups and organisations that are involved in fueling extremism and sectarianism," said Muhammad Tahir Rai, a senior Punjab CTD official.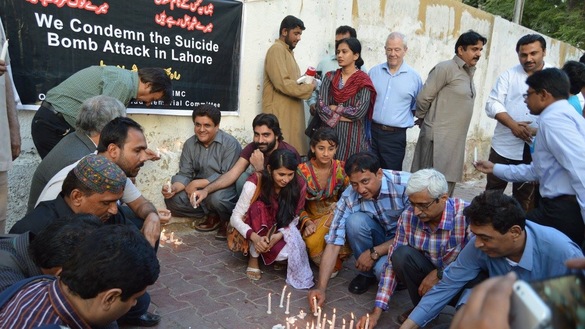 Punjab Province, once afflicted by sectarian violence, has not seen a single terrorism incident involving sectarianism over the past three years, he said.
Authorities this year in the province registered 281 cases against terrorists and their facilitators and arrested 310 suspects, according to the Punjab CTD.
In one incident this year, security forces on May 21 arrested a HuA member who facilitated a deadly suicide bombing on a Sufi shrine in Lahore earlier that month. The attack killed 12 people, including five police personnel.
In November, an anti-terrorism court sentenced him to death.
Authorities from the beginning of the year to November 30 recovered five suicide jackets, 100kg of ammunition, 125 hand grenades, 200 detonators, 15 Kalashnikovs and multiple pistols, according to the statistics.
In regard to the 310 arrested suspects, officials submitted charge sheets for 267 of them to various courts. The courts convicted 136 of them.
The CTD during the same period arrested another 173 suspects in connection with alleged involvement in providing financial support to the terrorists and recovered Rs. 12 million ($77,444).
Independent security think-tanks have corroborated the drop in terror-related fatalities.
Compared to 2017, terrorist attacks in Punjab fell by 71% in 2018, and the number of those killed and injured in these attacks dropped by 67% and 80%, respectively, according to an annual security report of the Pak Institute for Peace Studies (PIPS), an Islamabad-based think tank.
Terrorist threats
The South Asia Terrorism Portal (SATP), a website that monitors the militant outfits, also corroborated the Punjab CTD's successes against militant outfits, especially ISIS-K.
Several ISIS-K militants were killed in various parts of Punjab Province in 2019, according to the SATP.
In November, the CTD arrested three suspects linked to ISIS-K in two different raids and recovered explosives and detonators in their possession. The suspects were planning to attack sensitive government installations, said officials.
Co-operation between the Punjab CTD and Pakistan's Intelligence Bureau against terrorist threats and transnational militant groups has helped improve the security situation, said a senior intelligence official on the condition of anonymity.
In 2018, the TTP and HuA attempted to re-organise their structure in Punjab via local handlers, he said. However, law enforcement agencies were able to dismantle the networks through joint intelligence operations.
That year, the TTP and HuA perpetrated four attacks in Punjab, including two suicide blasts, that killed a total of 20 people and wounded 39 others, noted the PIPS report.
ISIS-K, through its local affiliates including the LeJ, also tried to penetrate Punjab, but the threat has now diminished for two reasons, according to the official.
"One is the weakening of the LeJ, from which ISIS-K derives most of its support in Pakistan, in Punjab after the killing of its leaders," he said, noting the killing of LeJ leader Malik Ishaq in 2015 in a shootout with the CTD in Muzaffargarh.
"Second, the recent defeats of ISIS in the Middle East have stopped the further recruitment of existing Pakistani militants who usually take inspiration from trans-national militant outfits, such as ISIS and al-Qaeda," the official said.
Elusive ISIS leader Abu Bakr al-Baghdadi was killed along with a large number of other ISIS militants in a nighttime raid on October 26 by US special forces in Syria.
The raid culminated with al-Baghdadi cornered in a tunnel, where he detonated a suicide vest, killing himself and three of his children.