PESHAWAR -- The government of Khyber Pakhtunkhwa (KP) has launched an initiative aimed at providing jobs in agriculture for vulnerable youth in the merged tribal districts.
KP Chief Minister Mahmood Khan November 12 inaugurated six projects in Bajaur District, including land set aside for an olive plantation, as well as the distribution of milk-chiller tanks for dairy businesses, olive seeds for oil extraction, subsidised wheat seeds, poultry and livestock in the merged tribal districts.
About Rs. 44.5 billion ($286 million) will be spent over five years on the initiative, known as the Prime Minister's National Agricultural Emergency Programme.
The government package will boost the local economy and generate opportunities for vulnerable youth, said Ghaffar Khan, an agriculture officer in the merged districts.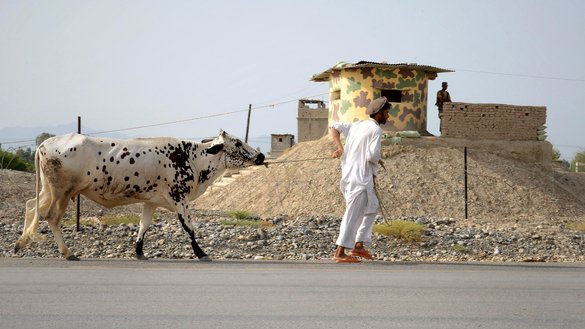 Under the agriculture programme, workers will convert 8,000 acres of barren land into orchards and cultivate another 28,000 with other crops. The plan will set up fisheries and establish irrigation systems for agricultural purposes.
The development of 327 tube wells for irrigation, vaccination of 1 million livestock and the establishment of 30 dairy farms in the region also are part of the programme.
This plan is expected to create enough work for youth to earn a living, lessening the chances they will be lured by terrorists, according to Ihsan Ali, a resident of North Waziristan.
"We appreciate that the development activities will engage residents in work and deny the militants opportunities to recruit them for acts of terrorism," he said.
In addition to providing jobs for youth, the government programme is expected to give a much-needed boost to the regional agricultural sector.
That is because the tribal areas have immense potential to produce all sorts of crops, according to KP Agriculture Minister Mohibullah Khan.
Farmers in the programme will receive seeds free of cost, he added.
'More opportunities for income'
"The population is jubilant over the programme under which barren land in tribal areas will be brought under cultivation, and it will engage youth in farming and keep them from engaging in negative activities," said Muhammad Raees, a resident of Bajaur.
Raees, 55, owned more than 30 acres of land that he could not cultivate for years until military operations in 2014 evicted militants, allowing displaced persons to return to their homes, he said.
"In the past, militant groups have banked on unemployed youths who were recruited, brainwashed and sent to public places to carry out bombings and suicide attacks," Raees said.
The programme offers a ray of hope for youth-- as well as for landowners and farmers -- to develop the land and help pave the way for peace, said Ali Khan, 39, of Bajaur District.
If youth are busy doing work in agricultural fields, there is no chance that terrorism will return, he said.
Now is the right time to start such activities because militants have been wiped out and the area is peaceful and ready for positive activities, Ali said.
The project is a good strategy by the government for thwarting terrorists' recruiting efforts, agreed Bilal Khan, an economist at Agricultural University Peshawar.
"It will provide more opportunities for income, and they [youth] won't join terrorists," he said. "A durable peace will be established."
"The programme will bring an economic revolution that will enable children to get better health and education facilities," he added.