PESHAWAR -- Education for girls in the Tirah Valley of Khyber District, once a distant dream, is now in full bloom amid the defeat of militants.
Tribe members are now eager to educate their daughters as volunteers launch free education initiatives. Jirga Pakistan, a volunteer group based in Peshawar, in particular is setting up free tent schools as part of an effort to revive education in the area.
More than 200 children of Godi Khel village -- half of them girls -- attended Jirga Pakistan classes on October 15. Free books, uniforms and reading materials were provided.
The charity in January set up a similar school in the remote Shaga Shaktoi village in South Waziristan District, which also saw the enrolment of more than 200 students. A girls' school is in the works for Dosali village of North Waziristan District.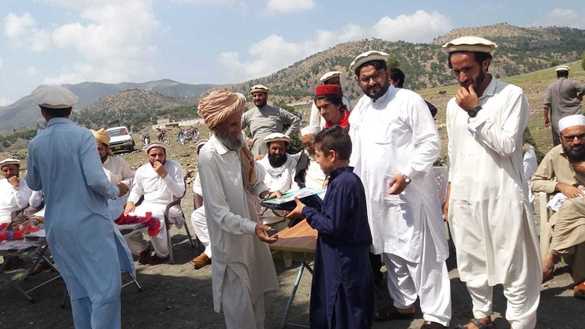 "We want our children back in school, and this is a minor effort of our volunteers to set up the second school in Godi Khel, after the success of our first one in Shaga Shaktoi," Jirga Pakistan Chairman Abid Afridi said on November 19.
"These two schools have been set up in remote areas of these tribal districts where government schools are yet to be functional or where there are no such schools," he said. "It's an effort to supplement the government's struggle to revive the schools shut down or destroyed by the terrorists."
Of the 38 government schools in the Tirah Valley, only five are functional, leaving thousands of children without access to schools.
"Though it's a makeshift arrangement at the moment, Jirga Pakistan is also providing free books and uniforms and has hired two teachers each at the schools who are operating the classes," he added.
Jirga Pakistan now receives funding from philanthropists and other donations, said Afridi, who sold his own property to fund his idea for the schools.
Pakistan Bait-ul-Mal, an autonomous government charity, has agreed to fund and support two schools in Kurram District: one in Margan village, central Kurram; and one in Teri Managal, Upper Kurram, which were badly hit by the war and unrest, he said.
"Jirga Pakistan has volunteers in all seven tribal districts, and its only dream is to get the out-of-school children back to class," said Afridi. "It is optimistic."
"They [the volunteers] are more focused in the areas where government schools are not functional or they are inaccessible. We are going to all tribal districts where children have lost their schools and could not continue their education," said Khalil Afridi, a member of Jirga Pakistan.
"The motive is very clear -- we don't want our youth to get trapped by extremist elements again," he said.
Parents, teachers happy
"We are thankful for Jirga Pakistan's initiative as our kids have to walk for so many miles to reach school, but now they have a facility in their own village," said Muhammad Ameen, a member of the Malik Dinkhel tribe in Tirah. "We want to educate our children -- both girls and boys."
"These children at the Godi Khel school had never been to school before or some of them had abandoned it because of the unrest and militancy, while some left because of the far-off distance as it is almost impossible to walk on foot for 5-6 km during winter to reach school," said Bilal Afridi, another parent.
This school will benefit four villages -- Godi Khel, Joge Khel, Sandagi and Pewari, said Nisar Malik Dinkhel, a tribal elder from Tirah.
"More than 500 children of these villages will be going to schools now," he said.
Most of these tribe families are very poor and could not afford to send their children to schools and buy them books and uniforms, so Jirga Pakistan has played a crucial role in giving these children an education, he added.
"I am really surprised and happy as well because five years ago no one even thought of sending girls to schools, as it was a social taboo and considered a crime," said Imran Khan Afridi, the head teacher at the Godi Khel school.
"But now, I have seen many parents who are coming with their daughters and granddaughters to get them admitted here," said Afridi.
"I have 90 girls in three classes out of the total of 219, which is a great change after restoration of peace in the valley," he said.
"Besides extremism, militancy and social taboos, poverty is one of the key reasons in these remote tribal districts why parents are not sending their children to school," he noted.
"We have had a great response, and it looks like we have to expand our two-tent school to five as more than 400 students in the surrounding village are on the waiting list for enrolment," Afridi said.
Inzar Gul Afridi, who had admitted his five-year-old daughter to the school, said he wants her to go to school as the next generation cannot afford to carry guns like its fathers.
"I want my grandchildren to become doctors, engineers and teachers. We can't keep our daughters in darkness any more."