PESHAWAR -- Movie aficionados in Peshawar are getting ready for the city's first Cineplex movie theatre, which comes amid a return to peace after a decade-long wave of terrorism.
The Naz Cinema of Peshawar is in the process of converting from a normal theatre to a Cineplex and will offer 3D screenings. The theatre is expected to open in December.
"The cinema industry will be on the path to revival with the introduction of this new technology, which will not only satiate the desires of movie lovers to watch films with the latest technology but also provide a pleasant atmosphere for their families," said Jawad Raza, owner of the Naz Cinema.
The decision to upgrade the theatre was made in the hopes of attracting more customers with the latest technology and a better environment, according to Raza.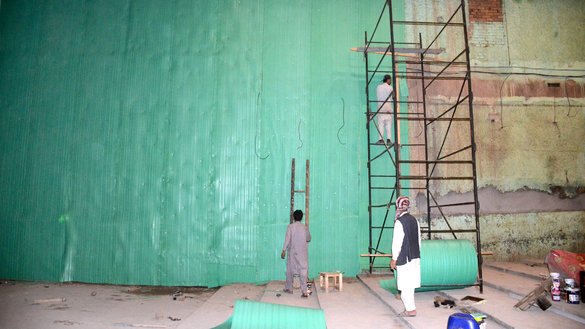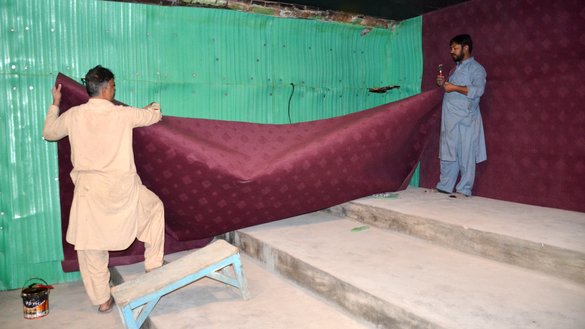 Special areas in the upper gallery and in boxes in the main lounge will be reserved for families to provide a sense of safety and freedom, he added.
A "Naz Cinema" mobile app will allow customers to book seats online, he said.
For security, the cinema is installing about 32 secret cameras and hiring private guards who will work around the clock, he added.
The cinema industry in Pakistan, and in Khyber Pakhtunkhwa (KP) specifically, has been on the decline for various reasons, including online streaming, DVD movies, cable networks and high-definition television as well as militant attacks, Raza said.
However, the penchant for the big screen still exists among the public and can be renewed by introducing modernity to the film industry and by removing security concerns, he said.
Most moviegoers in KP go to Islamabad to watch their films in Cineplex theatres, he noted.
Raza said he hoped that the conversion of Naz Cinema will be profitable and help revive entertainment.
"The decision is very welcoming and will bring a very positive change in the cinema industry of our region, which is on the decline because of extremists' targeting of entertainment places," said Ehtesham Toru, president of the Cultural Journalists Forum Khyber Pakhtunkhwa.
Improving the standard of film screenings will attract more customers and help revive the industry, he said, adding that security concerns and shabby cinemas have led to a drop in visitors.
A series of bombings in February 2014 targeting two cinemas in Peshawar killed 20 people and wounded 54 others, drastically decreasing the number of visitors, Toru said.
"The introduction of a Cineplex in Peshawar has given rise to hopes about the return of the past glory of the film industry when families used to come to cinema houses and had a fun time, especially on weekends," he added.
A historic theatre
"Naz Cinema was established in 1942 by a Sikh resident of Peshawar for the purpose of providing a healthy entertainment facility to city dwellers," said Ibrahim Zia, a historian and author of "Actors of Peshawar".
Naz Cinema, which was previously known as Rose Cinema, has had a long history in entertainment and played an important role in developing the acting and art industry, said Zia.
Muhammad Jan, the grandfather of Raza, purchased the cinema in 1947, when Pakistan was created. Raza is still playing an active role in reviving the cinema industry, which saw difficult times during militancy and terrorism, according to Zia.
"I heard from my elders that they used to go to watch movies with their families, but now it's time for us to visit with our parents and cousins to experience watching our favorite movies on big screens with loud sound," said Rahim, a 12th-grade student in Peshawar.
Rahim said that while he is a movie buff, his parents forbid him from watching movies on the big screen because of security concerns.
The establishment of a Cineplex with better security will give him an opportunity to fulfil his desire of enjoying the film-going experience in a cinema, he said.