KHAR, Bajaur -- An orphanage in Bajaur District has been working to provide orphans with education and prevent them from falling into the hands of militants.
Ali Sardar, the founder of the Al-Huda Centre for Orphans, was two years old when his father died in a traffic accident in 1977.
His mother did not re-marry, fearing that it would have an adverse effect on Sardar and her two daughters.
"Our family did not face any financial problem as my uncles and grandfather were there to help us," Sardar said, adding that he planned to do something for orphans since he was a child.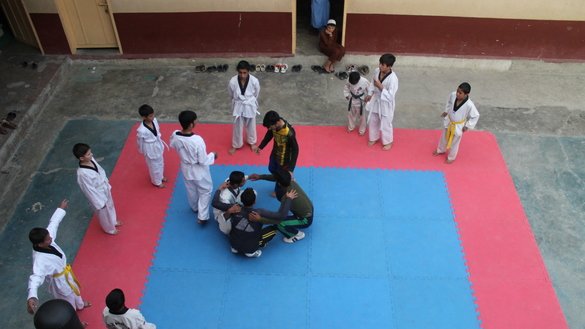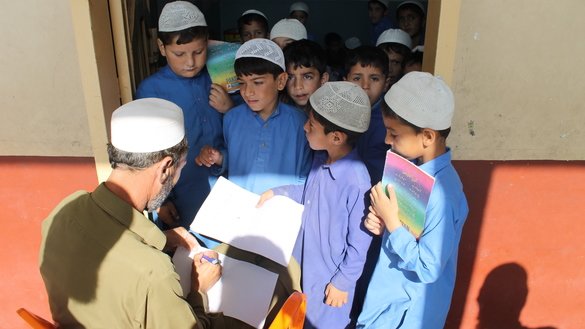 In 2006, a local FM radio station, Sada-i-Bajaur (Voice of Bajaur), announced a clothing drive for orphans to allow them to celebrate Eid ul Fitr alongside other children.
Sardar suggested that the radio station carry out its charity work on a regular basis, and in 2006 together they established an orphanage in Khar, the administrative headquarters of Bajaur District.
The orphanage, which had 10 students, was forced to stop working in August 2008 amid a military operation against Taliban militants.
However, a year later, Sardar reopened the orphanage, renaming it the Al-Huda Centre for Orphans and registering it with the Social Welfare Department as a non-profit organisation.
In 2010, he also established the Al-Huda Public School as part of the orphanage, which now has 14 rooms and houses 102 orphans.
The centre accommodates orphans from a variety of backgrounds, including the offspring of militants, security personnel and civilians.
One goal is to ensure that children of militants do not follow in the footsteps of their fathers and that they have an opportunity to become peaceful members of society.
A large portion of the funds needed to run the orphanage and school comes from local donors, said Sardar.
"Our orphanage is presently facing a deficit of Rs. 4 million ($26,000)," he said.
The centre previously received Rs. 50,000-200,000 ($320-$1,280) from the political agent under the Agency Development Fund, but the abolition of the Frontier Crimes Regulation in May 2018 also eliminated the office and the fund, according to Sardar.
"Earlier, we had a cleaner and a barber. But now we cannot afford them and the children themselves do cleaning-related work and they have also learned the skill of haircutting and provide their services to their fellow students," he said.
Army Sector Commander Brig. Naeem Akbar paid for the construction of 10 classrooms, three washrooms, the whitewashing of the whole building and electrical wiring. He inaugurated the new construction and renovation work on July 4, 2019.
Productive members of society
The orphanages has classes up to the 8th grade. Students go to class in the morning, recite the Koran in the afternoon and take part in taekwondo.
Muhammad Hanzala, an eighth-grade student at the centre, lost his father in an air strike on militants at a seminary in Damadola in Bajaur in January 2006.
His father, one of the militants, was also a cleric who taught Koran classes in the same seminary. Instead of becoming a militant like his father, Muhammad Hanzal says he wants to become a doctor.
Hanzala Khan, a ninth-grade student, lost his father in a mortar attack in the Loi Sam area. He is now studying at a government-run school in Khar.
"Like the students in our centre, we provide him [Hanzala Khan] with shelter, clothes and three meals besides bearing the expenses of his education," said Sardar.
"If we succeed in looking after these children in a good way and adorn them with quality education, they will not become terrorists but productive members of society," Sardar said.