PESHAWAR -- Corn, traditionally roasted by being buried in hot sand, is a favorite among Pakistanis, especially during the winter.
Customers of all ages can be seen gathered around street vendors offering fresh baked corn cobs, which are seasoned with a mix of salt and red chili.
Vendors use hot sand from furnaces to cook the corn.
About 20 to 25 hand carts are usually parked outside each furnace every day, said Muzamil Khan, the owner of a furnace in the Sheikhabad area of Peshawar.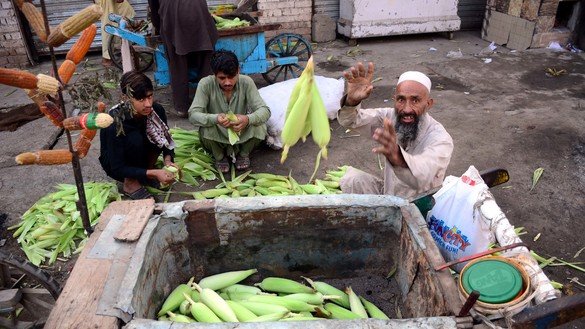 "We charge Rs. 500 ($3.21) per hand cart for the heated sand they need to bake corn," Khan said.
"I like corncobs because they are not only economical in price but also hygienic," said Muhammad Hussain, a salesman in Peshawar.
The freshly baked maize helps beat the chilliness of the winter, according to Hussain.
A corncob, either baked in sand or boiled in water, costs about Rs. 20-30 ($0.13-0.19), which is relatively cheap compared with other food items available in the market, he said.
"Maize corn is the fourth-most popular crop in Pakistan after wheat, cotton and rice," said Muhammad Sajid, a plant protection officer of the Khyber Pakhtunkhwa (KP) Agriculture Department.
In KP, "it is the second-most widely grown crop after wheat because of its popularity and increasing demand," he said.
The area under maize cultivation in Pakistan is more than 1 million hectares with annual production of 3.5 million metric tonnes. KP accounts for 57% of Pakistan's maize production, said Sajid.
"Hundreds of people are associated with the business of selling corn roasted in sand," said Farid Khan, a hand cart owner who sells maize in front of schools, colleges and parks in Peshawar.
The sale of corn has increased with the revival of peace in the province after a decade-long wave of militancy and terrorism, he said.
In the past, residents would avoid visiting parks and entertainment sites like cinemas because they feared bombings, Farid added.
Now, customers are rushing to such sites, increasing business, he said.
Revitalising the economy of the entire province of Khyber Pakhtunkhwa, much of which was devastated by terrorism and militancy, was the focus of a recent gathering of analysts who met in October.