KARACHI -- A Karachi school attacked three times by Taliban militants has been reopened after six years to provide quality education to students, especially girls.
Tehreek-e-Taliban Pakistan (TTP) militants in August 2012 sent threats to Abdul Waheed and Syed Latif, two social activists and educators running the Naunehal Academy, a co-ed school and polio vaccination centre in Islamia Colony near Katti Pahari.
A few days after the threats, the militants bombed the school, wounding Latif. He temporarily moved to Torghar District, Khyber Pakhtunkhwa, his hometown.
Waheed continued to defy the threats until May 2013, when he was killed in another attack on the school that wounded his younger brother and his daughter. The killers escaped.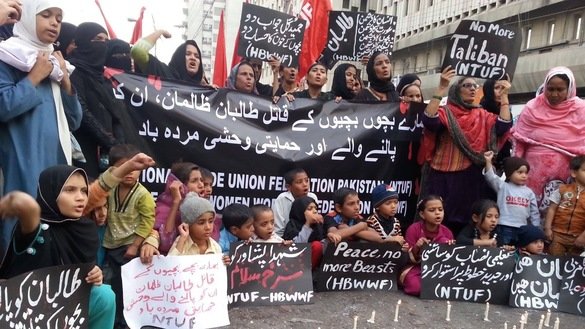 Militants threw a grenade into the school when management tried to reopen four days after Waheed's assassination. Nobody was injured in that event.
"We had to shut down our school for security reasons. Parents were reluctant to send their children to the school," said Latif, who re-inaugurated the school on October 15.
The success of law enforcement agencies in cracking down on violent groups, including the TTP, has created a safe environment to resume educational activities, he said.
"Now parents in the lower-income neighbourhood are sending their children to the school," Latif said.
The TTP attacks stemmed from the militants' hatred of co-ed schools and of polio vaccination programmes, say authorities. Sher Khan, a TTP Karachi operational commander, was behind the violence, according to Latif and law enforcement officials.
Khan was killed in infighting between Taliban militants in August 2013 over extortion money, and law enforcement agencies have dismantled his group by killing and arresting most of his colleagues.
Attacks on education
The opening of the Naunehal Academy demonstrates society's resilience to Taliban groups that attack educational institutions and kill students and educators.
There were 867 attacks on educational institutions in Pakistan from 2007 to 2015, resulting in 392 deaths and 724 injuries, according to the Global Terrorism Database maintained by researchers at the University of Maryland. Taliban militants committed most of those crimes.
One of the most devastating was the massacre at Army Public School in Peshawar in December 2014, in which more than 140 schoolchildren and teachers were killed.
The TTP and other militant outfits across the country lash out at schools, teachers and students for various reasons, said Alamzaib Haleem, a Karachi-based academic.
"Some target schools for supposedly having a secular or Western syllabus. Other schools have been threatened and targeted simply for educating girls," Haleem said.
"The Taliban militant outfits want to hamper efforts to improve education in Pakistan, which has one of the worst literacy rates in the world," he said.
"Attacks and threats of attack on education not only harm the students and families directly affected; they have an incalculable long-term effect on Pakistani society," Haleem added.