ISLAMABAD -- The Pakistani military and rescuers battled along badly damaged roads and combed through toppled buildings Wednesday (September 25) to reach victims of a Tuesday (September 24) earthquake that killed at least 37 people and injured hundreds more in northeast Pakistan.
The Pakistani military continued to lead search and rescue operations.
Chief of Army Staff Gen. Qamar Javed Bajwa, who has taken charge of the rescue operation, Wednesday "visited earthquake affected areas of AJ&K [Pakistani-controlled Jammu and Kashmir] and ongoing damage repair efforts at Jatlan Canal Road", tweeted the Information Ministry.
The Punjab government Wednesday sent a 90-member rescue team with seven ambulances and other equipment to Mirpur, reported Radio Pakistan.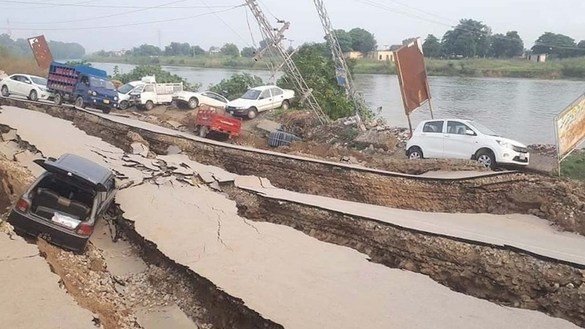 At least 37 people had been killed -- 33 in Mirpur and 4 in the neigbouring district of Bhimber, said Muhammad Tayyab Chaudhry, the top local official.
"Some 350 people were wounded, 80 of them critically," said Lt. Gen. Muhammad Afzal of the National Disaster Management Agency (NDMA) at a press conference Wednesday.
Afzal said 450 houses had been damaged -- 136 of them "completely" -- while 14km of road was "badly affected". Engineers are rushing to make repairs.
While the ambassadors of three countries had offered assistance, Pakistani authorities have the situation under control, he said. Security concerns include preventing a recurrence of fraudulent "charity" fund-raising by terrorist front organisations, which was widespread after the 2005 earthquake.
Information Minister Firdous Ashiq Awan gave a higher injury toll of 500. Survivors will be offered compensation, he said.
Misery
After a night of heavy rain compounded the misery of survivors, hundreds gathered to attend the funerals of residents killed near Mirpur, a well-developed city known for its palatial residences.
The 5.2 magnitude quake was not as strong as several that have struck the area over the years, but the epicentre was very shallow -- which generally causes more damage.
Near the city, many roads were destroyed, while bridges, mobile phone towers and electricity poles were also badly damaged.
The village of Jatlan on the outskirts of Mirpur appeared to be one of the worst affected.
There, residents combed through debris and assessed the damage inflicted on their homes, with large cracks defacing walls in the houses that still stood and brick fences reduced to rubble.
"I lost my house. I lost everything," said Abdullah Khan, whose three-bedroom home was flattened.
Rescuers had also reached one of the more remote villages in the area and were assessing the damage, said Mirpur's deputy commissioner, Qaiser Aurangzeb.
The quake sent residents of Lahore and Islamabad running into the streets, while tremors were also felt as far as New Delhi.
Pakistan was hit by a 7.6-magnitude quake in 2005 that killed more than 73,000 people and left about 3.5 million homeless, mainly in Pakistani-controlled Kashmir.