KARACHI -- The US State Department on Tuesday (September 10) designated the leader of Tehreek-e-Taliban Pakistan (TTP) as a global terrorist.
Under the leadership of Mufti Noor Wali Mehsud, the TTP "claimed responsibility for numerous deadly terrorist attacks across Pakistan", said the announcement.
The State Department also designated as global terrorists 11 other leaders of previously outlawed groups, including Hizbullah, Hamas, Palestinian Islamic Jihad, "Islamic State of Iraq and Syria" (ISIS), ISIS-Philippines and ISIS-West Africa.
"This Administration will continue to aggressively use all levers of American power, including financial sanctions, to target terrorists who plot murderous operations to indiscriminately kill innocent civilians around the world, and those who enable, facilitate, and finance their heinous acts," said the statement.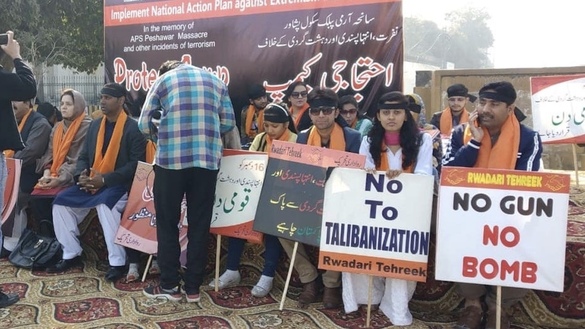 Mehsud, who also uses the alias Abu Mansoor Asim, became leader of the TTP in June 2018 after his predecessor Mullah Fazlullah was killed in a joint operation carried out by US and Afghan forces in Kunar Province, Afghanistan.
The United States designated the TTP a terrorist group in 2010 and Fazlullah a global terrorist in 2015.
Now in his 40s, Mehsud hails from Gorgoray village in Sararogha Tehsil, South Waziristan. He has held several positions, including being judge of a Sharia court and director of a TTP training centre in his native village.
As leader of the TTP's Karachi chapter from June 2013 to May 2015, Mehsud tormented the city's Pashtun community.
Using a landline phone at the TTP's office in the Miranshah bazaar in North Waziristan, Mehsud used to threaten Pashtun traders, other affluent individuals and their families if they failed to pay extortion money.
"In some cases, the group even summoned them to appear in their court in Miranshah," said Akmal Khan, a Karachi-based Pashtun transporter, who paid a Rs. 1 million ($6,390) ransom after Mehsud's militants kidnapped his five-year son in 2012.
"TTP members are criminals and have nothing to do with Islam. They were just collecting money through extortion and kidnapping for ransom," he said.
Mehsud, in a book titled Inqilab-e-Mehsud released in December 2017, detailed the TTP's extortion, kidnappings for ransom and assassinations.
He also brazenly admitted to the group's campaign against polio immunisation and its efforts to spread propaganda that the vaccines are part of a Western conspiracy to make Muslims impotent or stunt the growth of their children.
A weakened group
The TTP, formed in December 2007, has served as an umbrella organisation for various militant groups. Since its formation, it has attacked civilians, government installations, places of worship, law enforcement personnel and polio vaccination teams, among other targets.
The TTP's command and control centres have been effectively dismantled across the country after military operations started in 2014, say security officials.
"The weakening of the group was not possible without the assistance of the United States," said a senior intelligence official on the condition of anonymity.
Strikes against TTP leaders in Afghanistan and Pakistan "reiterated the significance of US assistance to Pakistan in countering terrorism", said the official.
Although the TTP has suffered major losses in military operations, it still remains a key driver of instability in Pakistan, according to the Pak Institute for Peace Studies (PIPS).
In 2017, the group carried out 70 attacks that killed 186 people, PIPS said in its annual report.
"The TTP is entering the elimination phase of its life cycle, from which recovery seems unlikely," said Farhan Zahid, an Islamabad-based security analyst.
"TTP is struggling to get fresh recruits. But given the hardening of the Afghanistan-Pakistan border and better border management measures, its hideouts in Afghanistan are in peril and the ideological rhetoric of radicalising Pakistan through jihad has no takers," Zahid said.