LAHORE -- Officials from various parts of government have been helping to implement a policy to widen the scope of education at madrassas in an effort to improve students' opportunities and prevent the spread of hate speech.
Pakistani Chief of Army Staff (COAS) General Qamar Javed Bajwa, for his part, last month met with madrassa students who ranked highly on their Matriculation and Intermediate Exams this year amid reforms of religious schools.
On August 21 at General Headquarters in Rawalpindi, Bajwa met with 13 students, including four girls, belonging to madrassas under the Ittehad-e-Tanzeemat-e-Madaris Pakistan (ITMP), which manages thousands of religious institutions throughout Pakistan.
Bajwa congratulated the students for their achievements and lauded the commitment of parents and teachers in providing the right environment to help them achieve such distinctions.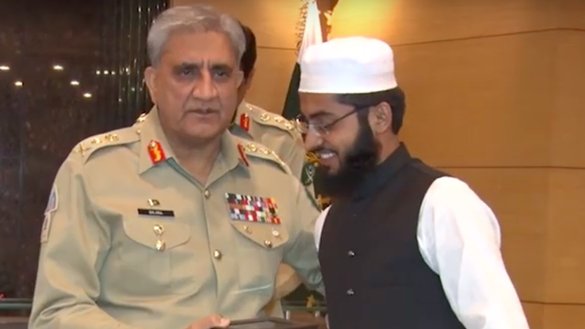 "COAS said that ongoing efforts to bring Madaris [madrassas] in fold of mainstream national education system will open avenues for Madaris students to excel in contemporary career streams," according to an Inter Services Public Relations (ISPR) press release.
"He emphasised students to continue working hard and contribute towards prosperous and progressive Pakistan and be part of society as useful citizens," added ISPR.
Madrassa reform
Under the counter-terrorism National Action Plan (NAP), Pakistan's government has been working to reform seminaries, requiring them to disclose their assets, submit annual audit reports and declare donations from local and foreign sources.
Religious scholars and clerics are fully behind the government's reform plans and want their students to learn modern subjects, according to Maj. Gen. Asif Ghafoor, chief spokesman for the Pakistani military.
"Islamic education will continue to be taught at these madrassas, but there will be no hate speech," Ghafoor said in the statement.
"This will help children graduating from these institutions to avail the same career opportunities as those coming from private and other schools," he said.
The government and ITMP inked an agreement in 2010 that opened up opportunities for thousands of madrassa students to obtain modern education both in Pakistan and overseas, noted the ISPR.
Widening the scope of education at madrassas raises the overall educational standards of pupils, improves their future employment prospects and positively impacts the security situation, it said.
"The government is unable to educate poor children, so only madrassas offer free education," said Muhammad Iqrar of Punjab Province, whose son is a student at a local madrassa.
"It is only lower-income students who go to these seminaries. If the government supports these students, that can make a difference too," he added.
A new curriculum
The vast majority of madrassas in Pakistan fall outside government control and offer little in the way of mainstream subjects.
Efforts are under way to implement a uniform curriculum in the entire country after revisions end, Minister for Education and Professional Training Shafqat Mahmood said in an interview.
The madrassas will teach contemporary subjects and the examination of these subjects will be conducted by the Federal Board of Intermediate and Secondary Education, he said.
"For ensuring religious harmony in the country, the government has introduced similar curricula in madrassas to minimise ... differences among various sects of Muslims," Lt. Gen. (ret.) Nasser Khan Janjua said.
"The government has tried to enable the students of madrassas to be absorbed in the mainstream educational system ... which will afford them all the opportunities to join any profession like any other citizen of Pakistan," Janjua said.
"Students of madrassas are citizens of Pakistan and it's their right to avail all the career paths of higher studies and many more," he said.